Iceland is typically divided into seven geographical regions and each one contributes unique and captivating elements that should be on every Iceland travel wish list.
As a geothermal paradise comprising Northern Iceland, Eastern Iceland, Southern Iceland, Western Iceland, The Westfjords, Reykjavik and the Reykjanes, Iceland travel is not short of possibilities and possesses something to offer every traveller, regardless of their desires.
Besides glorious glaciers, dormant volcanoes, jagged lava fields and boiling geysers, Icelandic folklore and its captivating history are the prime attractions to this scenic country and is what continually shape the land still today.
Lonely Planet recently published the WestFjords as the No.1 Regional Destination for Travel in 2022 and we are delighted to welcome you there with open arms.
Iceland Weather
---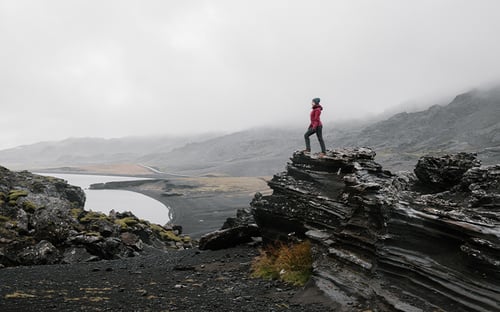 Regardless of the season, Iceland offers breathtaking views!
---
Due to its stunning location within the Arctic Circle, Iceland caters for a broad contrast of seasons and temperatures.
Interestingly, the weather in Iceland can be quite unpredictable throughout the year. You can experience a mix of all weathers on the same day and for this reason, we recommend you pack your waterproofs, to be on the safe side.
Regardless of the season, when you venture into Iceland you are guaranteed to be introduced to some of the most magnificent natural wonders the planet has to offer.
Whether dusted in the pastel shades of springtime, the orange warmth of the Midnight Summer Sun, a blanket of brown as the leaves start to fall or crisp-white snow as the earth declares winter, you are in for a treat.
---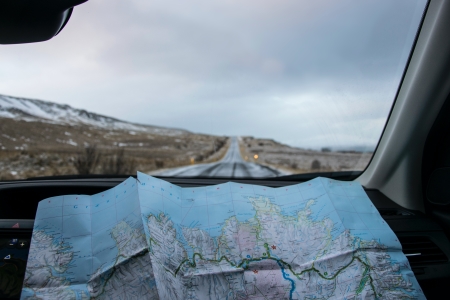 Journey through Iceland's landscapes
---
Let's take a look at the averaging temperatures throughout the seasons:
We recommended travelling to them all!
Icelandic Dining Culture
---
Svið – Sheep's head or Hrútspungar - sour ram's testicles? Find out more!
---
One thing for sure is, the Icelanders love their food. But then again, who doesn't? Travellers from far and not so far, come to the Icelandic shores to sample some of their finest seasonal cuisines.
Locally sourced produce and a fresh catch of the day are common and certainly popular around the coastal towns of Iceland. More traditionally, Icelandic food revolves around dairy, bread, potatoes, fish and lamb but don't be surprised to find a more daring dish on the menu during your vacation.
Hákarl - local fermented shark, Kjötsupa – traditional lamb meat soup, Plokkfiskur - traditional fish stew, Hardfiskur - dried fish jerky, yoghurt and rye bread are popular amongst the Icelanders and they love for you to try.
If you wish to sample something a little peculiar and not an everyday offering, try either their Svið – Sheep's head or Hrútspungar - sour ram's testicles. We will take your word for how it tastes.
Iceland Landmarks and Popular Destinations
---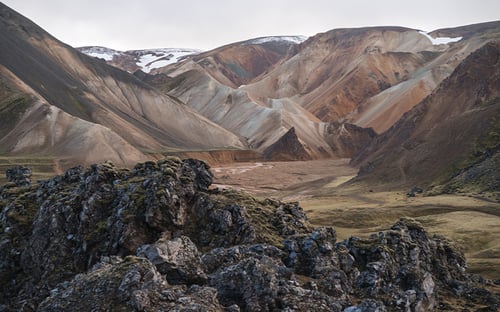 Endless hiking opportunities and breathtaking landmarks
---
It is pretty much possible to walk the whole of Iceland.
We say that cautiously, as some destinations are unreachable unless otherwise guided and may consist of elements that require some substantial amount of fitness. On the other hand, there are many that are easily reachable.
With a choice of spectacular national parks, deep winding valleys, high-topped mountains and iced grand glaciers, Iceland's hiking opportunities are so diverse there is something for everyone and a reason to return year after year.
Backpackers can start their adventure from one of Iceland's small idyllic towns, many snaked with easy hiking
trails that grant magnificent views of the land's most fascinating landmarks.
From Westfjords to the Eastfjords
---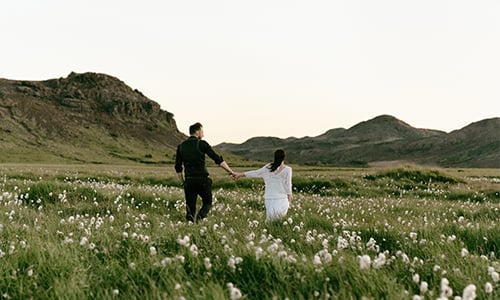 Camp outside with our guides, or take a small local hike!
---
Longer hiking trails and some of the country's favourites are Laugavegur and Fimmvörðuháls Hiking Trails, Hornstrandir Nature Reserve in the Westfjords (as voted No.1 for Regional Destination in 2022 by Lonely Planet) and Víknaslóðir Hiking Trails in the Eastfjords.
Smaller hiking trails can be found within Iceland's beautiful National Parks and draw attention from travellers for their camping options nestled within.
Iceland is sprinkled with accessible campsites in all its corners. If you wish to camp outside one of the designated grounds, you'll need permission from whoever owns the land. And, you will definitely need to do your homework beforehand as some destinations do not allow it.
Let Booknordics.com help you get there. With an abundance of hand-picked multi-day tours available and with the very best expert guides, you will not be disappointed.
What better way to surround yourself with the pristine, unspoiled Icelandic nature than to set up your tent and sip your warm berry juice bathed under the Midnight Sun or the Northern Lights?
Icelandic Wilderness
---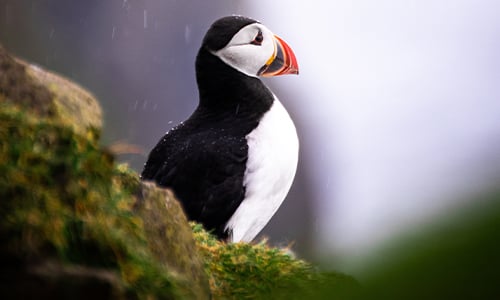 Friendly and curious puffins will cheer you up!
---
One of Booknordics.com's favourite reasons to visit Iceland is its extensive range of diverse wildlife.
Wildlife in Iceland is rich with birdlife, marine mammals and land mammals that draw travellers to its shores each year. With historical stories outlining the arrival of some, it's no wonder that the land is surrounded by old folklore beliefs and rich heritage.
Icelandic Horses, the original mode of transport, hold a significant place in the Icelander's history. As one of the purest breeds of horses in the world and an animal that exceeds expectations with an excellent five gaits; it is loved for its power, strength and welcoming character.
Also, did you know that the curious Arctic Fox, whose coats are enabled to endure the Arctic winter months, came to Iceland before the Viking settlement? It is thought that it came along the ice from Greenland and mainland Scandinavia.
---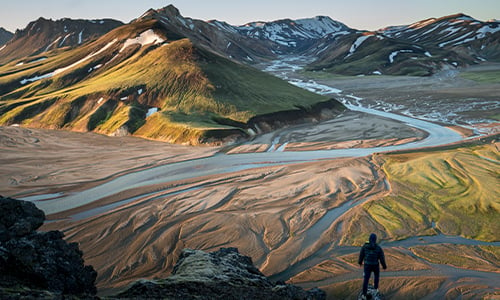 Rich nature and majestic wildlife
---
Creating quite a stir throughout its history, it has been known to be incredibly gifted at pinching chickens, digging holes and clawing through parlours. Nowadays, it is recognised as the only Icelandic native animal.
Roaming the skies and regularly nestled on sea cliffs around the country, puffins, skuas and kittiwakes stay for the summer season before escaping the harsh winters with their young. A photographer's paradise.
The ocean also comes bearing gifts and the spotlight for Whale Watching is significant in the town of Húsavík, a northern coastal town that claims the title of the best sightings in all of Europe.
In summer, when the chances are almost guaranteed, you may catch sightings of humpback whales, minke whales, white-beaked dolphins and harbour porpoises. Although blue, fin, sei, beaked, pilot, beluga and killer whales are also seen on rare occasions.
You are not alone in Iceland that's for sure.
The Famous Golden Circle Tour
---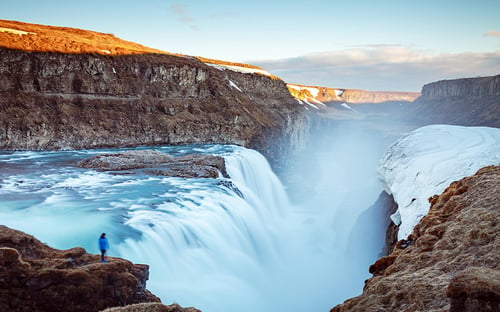 Gullfoss Waterfall, otherwise known as 'The Golden Falls'
---
The majority of adventures in Iceland start from the notorious capital city of Reykjavik; it offers easy access to the whole island and is the main travel hub for tourists.
You may have heard of the famous Golden Circle tour, a 225 km journey of a lifetime from Reykjavik. It consists of visiting three of Iceland's most remarkable landscapes nestled into one route and presents a deep dive into the rich history and natural phenomena surrounding the country.
The National Park of Þingvellir, a UNESCO World Heritage Site, sits in a rift valley caused by the separation of two tectonic plates, the Eurasian and the North American. It was the original home of the Icelandic parliament, dating as far back as 930 A.D and the most significant decisions of Icelandic history were made here.
---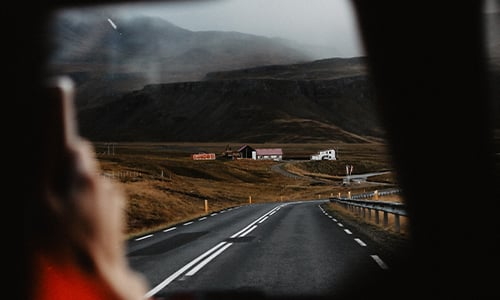 Explore the extraordinary Great Geysir of Haukadalur Valley!
---
Did you know Iceland is the only place in the world where this rift is above sea level? There is not one other place that you can see the edges of both plates as clearly as in Þingvellir. Interesting right?
Secondly, incorporated into this superior triad is the extraordinary Great Geysir of Haukadalur Valley. The whole area is a geothermal park resting above a boiling hot bath. Although now deemed dormant, its neighbour Strokkur geyser is believed to erupt every 5-10 minutes, spouting water and steam some 20m in the air.
And, last but not least - Gullfoss Waterfall, otherwise known as 'The Golden Falls'. Found in Hvítá River Canyon, it has both historical significance as well as is substantial by itself. The waterfall originates from the Langjökull glacier and gets its name from the golden hue it gives off as it tumbles down into the canyon.
The Golden Circle - a golden medal for Iceland.
The Northern Lights Season
---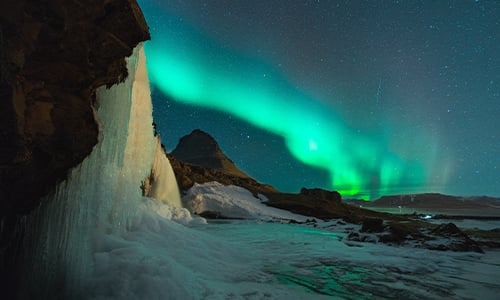 Hike in snowshoes to the unknown or cruise silently
- Let's see the Northern Lights!
---
September through April is the best time to see the Northern Lights in Iceland. The darkened skies allow vivid pink, blue, green and purple lights to display a unique and scientifically endorsed phenomenon for all.
Aurora Borealis is created when solar particles interact with the atmosphere in the Earth's magnetic field and due to its location within the Aurora Zone, Iceland's diverse landscapes are decorated in tune with the dancing lights.
Avoided by expectant mothers due to beliefs of ancient folklore tales, the Northern Lights have been the topic of conversation with Icelanders for centuries.
On your Icelandic holiday, venture out into the unspoiled wilderness with your family and friends, hop in an arctic truck to the top of the glacier, enjoy a snowmobile ride in the valley, cruise silently on the still ocean or hike in snowshoes into the unknown, all circling underneath the power of the open skies.
Take a look at our Northern Lights Photography Guide for help capturing the perfect photo of the Aurora Borealis. You'll not want to miss a thing and we can help you!
The Land of the Midnight Sun
---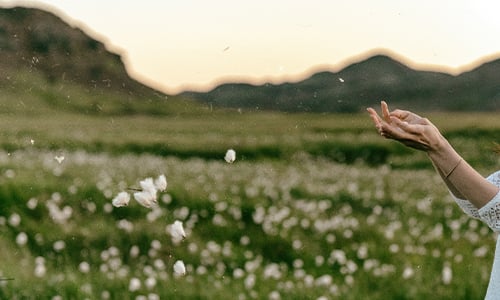 Discover the shades of an Icelandic Midnight Sun Sky
---
In contrast, the Midnight Sun, where the sun is visible for almost 24 hours a day, hugs the Icelandic lands from Mid-May through to Mid-August.
The summer glow allows visitors and locals the time to revel in the extended hours of daylight. Providing numerous options to enjoy uniquely designed tours and adventures to be pampered underneath the orange skies, it draws attention from far and wide.
A variety of events happen throughout Iceland and inside its capital city to fully appreciate the summer warmth. Icelanders love a party and any excuse to celebrate; the longest day of the year, the summer solstice, is met with the energetic and fun-packed Secret Midnight Sun Festival.
During your summer vacation, soak up the sun rays in a hot spring, sail into the golden horizon on a sunny arctic cruise or munch on a Lappish barbeque with your friends after a midnight hike in the glaciers.
Like the daylight, the opportunities are endless.
Hot Springs in Iceland
---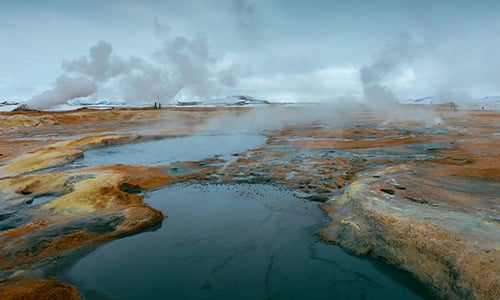 Radiant powers of the stimulating geothermal water
---
Iceland's geothermal seawater has been a proven benefit for both the mind and the body and remains a great topic of research. Whether under the glow of the Midnight Sun or surrounded by a blanket of snow, the Icelanders love to bathe and use this opportunity in all seasons.
You can too experience the radiant powers of the stimulating geothermal seawater, either in one of the sought after thermal baths or hard-to-find hot springs in almost all the corners of Iceland.
With easy accessibility even from its historic capital city, the waters of the famous Blue Lagoon prove due to the richness in silica, algae and mineral salt, the water strengthens, renews, and nourishes the skin, leaving you feeling radiant and rejuvenated. No wonder it is on Iceland's most-wanted list and a National Geographic trophy.
But that is not all, thanks to the strong volcanic activities, an abundance of amazingly remote and natural hot springs can be found all over the country. Burrowed silently and miniature compared to the vast expanse of Icelandic nature, hot springs are left untouched and unseen unless you know where you're going.
If you're travelling around Iceland, be sure to check any one of these fabulous hot springs or geothermal pools. Oh, and bring your swimsuit and towel. With some not having changing facilities, we highly recommend it!
Golden Circle Route
The Secret Lagoon in Hvammsvegur, a naturally made pool but no longer a secret.

Laugarvatn Fontana Spa in Laugarvatn, a luxurious spa to cater for all your needs.
Reykjavík Capital
Nauthólsvík Beach in Reykjavík, a stretch of golden sand and an artificial hot spring allowing you to swim in the ocean.

Kvika / Grotta hot spring just outside Reykjavík is a footbath to rest and revitalise your feet after a strenuous and exhilarating adventure around the capital.
Northern Iceland
Hofsós pool in Hofsósbraut, granting panoramic views of the surrounding fjord.

Mývatn Nature Baths at Mývatn and Grjótagjá, a small cave in the area where the temperature is too hot to bathe but the views are worth searching for.

Geosea Sea Baths in Húsavík with fascinating views of the local mountains and as far as the Arctic Circle.
Eastern Iceland
Krossneslaug in Norðurfjörður (Westfjords), a pool at the end of the world, situated on a black pebble beach and with the most incredible views.

Vök baths just slightly Northwest of Egilsstaðir, offer saunas, geothermal pools and cold tunnels on the lakeshore.
Southern Iceland
Seljavallalaug swimming pool, nestled between the waterfalls Seljalandsfoss and Skógafoss and is amongst the oldest swimming pools in Iceland.

In Reykjadalur, otherwise known as 'Smoky Valley', you'll find Reykjadalur Hot Spring Geothermal river alone in the wilderness.
Western Iceland
Gudrunarlaug in Sælingsdalur, a small hot spring named after one of the great heroines of the Icelandic Sagas.

Krauma in Reykholt, a spa fed by the largest hot spring in Europe.

Drangsnes Hot Tubs in Steingrímsfjörður overlook the ocean and take advantage of Iceland's natural geothermal waters.

Landbrotalaug in Snæfellsnes peninsula, a tiny pool and a hidden gem, only allowing 2-3 people at a time.
Reykjanes
The Reykjanes pool is one of Iceland's largest geothermal pools matching an Olympic size and with incredible views of the peninsula.
Highlands
Landmannalaugar Hot Pot with picturesque views and intense colours of the rhyolite mountains.

Víti, (translated to Hell) an explosion crater that contains a geothermal lake of opaque blue, mineral-rich, warm water.
Iceland Travel Packages and Vacation Tips
---
We hope that our blog has given you some valuable Icelandic vacation tips for your upcoming journey!
Here at Booknordics.com, we are Iceland travel experts and we are happy to help you anytime. Sign up for our email newsletter to discover more.
If you have any further questions, do not hesitate to contact us.
Stay updated
* By subscribing to the latest news from our blog, you consent to us storing your email address, and sending you monthly emails. You can, at any time, retract this consent.