The Republic of Iceland is famous for its contrasting elements that simultaneously, hand in hand, represent the uniqueness it has to offer during the summer. A country where culture, nature, and history work as a team and its geothermal activity is strong.
There is an abundance of things to do in Iceland in the summer and it is no secret why the Icelandic locals celebrate their diverse country landscapes and welcome tourists to enjoy their lands.
The Magical Sights of Iceland
---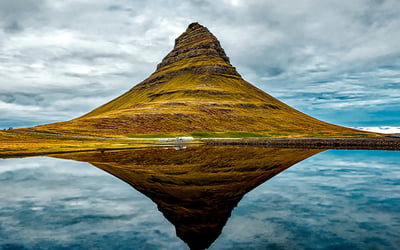 The Land of Fire and Ice during summertime
---
Iceland is famously known as the 'Land of Fire and Ice'. Dotted with subtle fishing villages that are edged between fjords; greeted by voluminous waterfalls that roar from outlined glaciers; and overlapped by lava fields that surround erupting geysers and bubbling hotpots; Iceland has it all.
As one of the northernmost inhabited places on the planet, Iceland offers a broad contrast of seasons and temperatures. During the summer months of late May, June, July and August - Iceland is baked in a caramel cloak, bustling with adventurous activities and highlighted from the golden glow of the Midnight Sun.
Do you have your swimsuit ready?
Plan your Iceland Vacation Ahead
---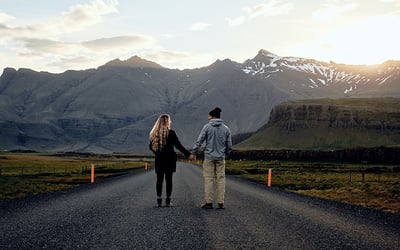 Travel itinerary for the summer in Iceland
---
Booknordics.com recommends packing thoroughly for the unpredictable Icelandic weather. Just like its landscapes, the weather can change and offer dramatic scenery iced with recent raindrops and reflected by the summer sun.
While your suitcase is full of summery clothes, depending on your itinerary and choice of activities, you may wish to venture with waterproof clothing for that kayak adventure, waterproof hiking boots for that downpour at the top of a mountain, a swimsuit and a towel for that relaxing moment in the geothermal pool and most definitely your camera for all three.
Puffins and the Iceland Weather
---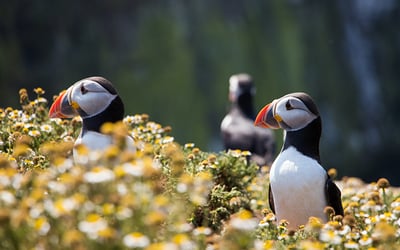 Iceland's rich wildlife
---
Calling action to its shores, the summer heat provides the maritime wildlife with a feast of fish and an audience to which to perform. Puffins circle their summer territory and nest their young before colder temperatures arrive and glaciers are continuously changing to set their shape for the following summer.
With temperatures averaging a high of 10–13 °C (50–55 °F) and crafted by bustling oceans, radiant wildlife and exciting activities - an Icelandic summer holiday, a weekend getaway or day trip is an excellent way to discover this island's scenic beauty.
Can you Spot the Northern Lights?
---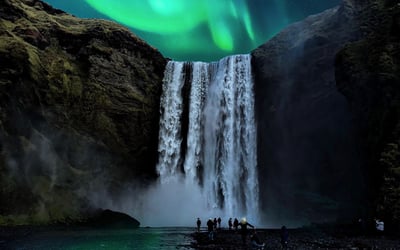 Northern Lights in Iceland
---
Unlike the winter, Iceland's summer is not overcast by the illuminating Northern Lights as there is not enough darkness for them to be visible. However, it is greeted by the Summer Solstice - averaging a date between June 21st and June 23rd, when there is almost exactly 24 hours of continuous sunlight beaming down.
It is this continuous glow that draws the locals to celebrate and dance their nights away during the day, or is it still the night? Who knows? What we do know is that music is played, local Icelandic food is served and having fun is mandatory.
We also invite you to read our collection of the Top 5 Itineraries to include in your Summer Vacation to Iceland. We hope that we can help you choose the perfect way to explore this marvellous country during its radiant summer months.
Your Iceland Holiday Starts Right Here
---
1. Taste a Traditional Icelandic dish
Our first suggestion to you would be to try the deliciously homemade local Icelandic cuisine. It's true what they say, it will be a dish you will not experience anywhere else in the world.
Locals love to eat what they catch, and their waters are filled with an extensive variety. In fact, did you know that there has been a record-breaking 340 different species found in the waters?
---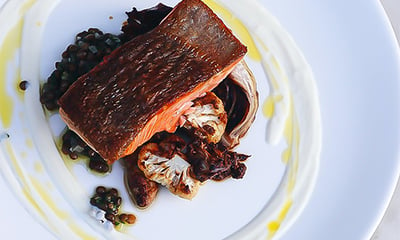 Salmon and shark
---
Local fermented shark is a favourite among locals as well as their Kjötsupa – Traditional Lamb meat soup. Yogurt, rye bread and fish stews are all locally prepared dishes and enjoyed by tourists who visit a traditional Icelandic restaurant during their summer vacation. If we are honest, the list does not end there.
Known for their rich culture and interesting ancient folklore of mythical creatures, elves and trolls - Icelandic people like to wine and dine with their tourists surrounded by a little history. Be prepared to learn all about the myths and legends that shaped the Icelandic lands whilst tasting the local cuisine that kept them alive all these years.
2. Jump into a Geothermal Pool in Reykjavik
---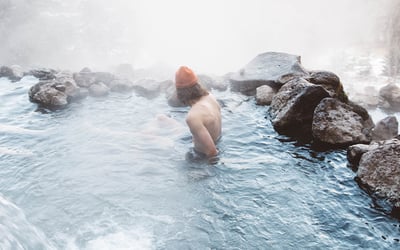 Natural geothermal pools and Blue Lagoons
---
Ever wondered why the Icelandic locals have radiant skin and glowing hair? As modest as they are, they give full credit to the geothermal waters that heat, regenerate and vitalise their lands.
Entering a geothermal pool, enriched with a richness in silica, algae, and mineral salt combined with heat at approximately 40°C, is a must-do when visiting Iceland in the summer. Believed to strengthen the youth of the body - the geothermal waters and their natural minerals soothe aching muscles and relax the mind, either as a special treat or after a glorious hike in the surrounding landscapes.
A wonder in the heart of a black lava field, The Blue Lagoon is perfect for a day trip from Iceland's notorious capital - Reykjavik. This ever-enhancing lagoon is on the top of travellers bucket lists and deservedly so. The sought-after waters originate from volcanic aquifers 2000 meters within the earth and underground, the freshwater and ocean water mix with flaming heat and immense pressure to constitute the mineral-rich geothermal seawater.
If you are visiting the Northern region of Iceland, Mývatn Nature Baths and Geosea Sea Baths in Húsavík offer a glorious experience to destress. Or, if you are adventuring around the Golden Circle Route, bypass the Secret Lagoon or Fontana Geothermal Baths to spend some time in the soothing waters.
3. Soothe your Muscles in Natural Hot Springs
---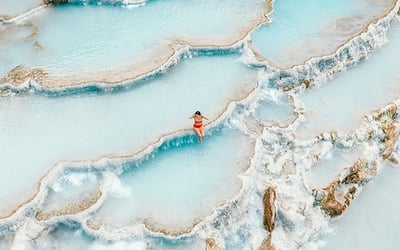 Vast wilderness and extensive hot springs on the South Coast of Iceland
---
On the other hand, Iceland has many curious natural hot springs found in the vast wilderness of the Icelandic terrain - suited to those active couples after their hike in the highlands.
Mainly unreachable unless otherwise guided, these heated hot springs can be stumbled across during an extensive hike in the highlands or a multi-day trip across the coasts. With a lack of changing facilities and privacy, you are - as the locals like it - out in the open and free to explore in the diverse and powerfully addictive surrounding nature. We recommend bringing your swimsuit, it can get a little chilly.
If you venture further afield in search of the dynamic landscapes, keep your eyes peeled for these hidden gems along your way:
Eastern coast of the Westfjords - Krossneslaug

West Iceland - Gudrunarlaug

South Coast - Seljavallalaug - between the waterfalls Seljalandsfoss and Skógafoss
4. Iceland Holidays and Spa Treatments
---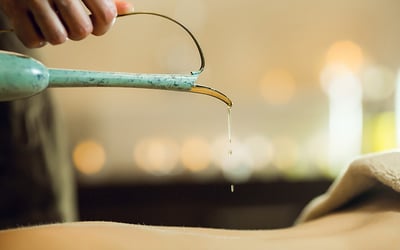 The most outstanding spa retreats in Reykjavik
---
Alternatively, you don't have to venture too far when in search of a relaxing evening. A 10-minute drive from Iceland's capital city - Reykjavik is one of the most outstanding spa retreats - ideal for families wishing to relax from their normally hectic lifestyles.
Hilton Nordica Reykjavík offers top-quality spa treatments and contemporary Icelandic and Scandinavian cuisine made with seasonal and local produce for you to indulge and pamper your taste buds.
Whichever geothermal activity you choose to treat yourself; sit back, relax and breathe in the crispness of the Icelandic air. You'll feel like a local in minutes.
5. Explore the Iconic Landmarks and National Parks
---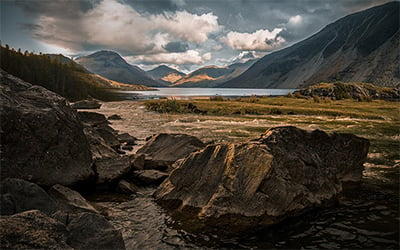 Iceland highlands and popular landmarks
---
Iceland has many famous iconic landmarks and national parks off the beaten track. Some are easily accessible, others only by specified vehicles, many only during the summer months and most, reachable with the help of a local guide.
Their traditions, history and Icelandic language are of utmost importance to the Icelandic locals. For many, the belief still remains for elves, trolls, and other figures in the mythical times of the Norse past. If you wish to experience more and learn about the past of this diverse land, a local guide will be delighted to help.
The famous Golden Circle route with departures from Reykjavik offers incredible experiences including a chance to hike to Iceland's most notorious landmarks; Pingvellir National Park, Gullfoss Waterfall and the Great Geysir. If you are travelling The North - Kjarnaskógur Woodland offers 12 km of gravel tracks for the outdoor adventurer in Akureyri. Additionally, the scenic South Coast grants entrance to the ever-changing Jökulsárlón Glacier Lagoon, situated in the magnificent Vatnajökull National Park with a chance for a once-in-a-lifetime glacial hike.
For the most part, you can discover Iceland's iconic landmarks on your summer vacation by following its infamous Route 1 around the outskirts of its land. Alternatively, you can venture inland or further afield to discover the hidden gems situated in the very middle or on the very edge of Iceland's shape.
Iceland is primarily divided into seven regions and all are teamed with epic hidden landmarks awaiting your arrival. Comprising of: Northern Iceland, Eastern Iceland, Southern Iceland, Western Iceland, The Westfjords, Reykjavik and the Reykjanes - a local guide can take you to otherworldly places otherwise unseen by the tourist's eye.
Glimpse the elusive and playful Arctic Fox on a multi-day adventure in Hornstrandir Nature Reserve in the Westfjords.

Climb Hólmatindur mountain and experience incredible wilderness views in the east.

Sail to Grímsey Island and capture the perfect photo of the charismatic puffins from up north.

Witness the spectacular colours of The Rauðhólar - 'Red Hills' in the west.

Take a leisurely walk through Nupsstadur Forest in the south.

Stand at the tip of the Reykjanes peninsula in Garðskagi.

Learn all about Icelandic history on an organised walk to an art museum in Reykjavik.
By booking one of our Booknordicscom hand-picked summer adventures in Iceland, the expert local guides will assist you in your discovery of new destinations that tell a thousand stories of a land shaped by fire and ice.
6. Summer Music Festivals under the Midnight Sun
---
Iceland home to the Midnight Sun
---
Covered from head to toe in constant sunshine, the Midnight Summer Sun in Iceland is celebrated by locals, tourists and even the wildlife. We encourage you to get familiar with the Nordic Midnight Sun and its gorgeous golden abundance in advance.
Creating a delicate atmosphere that is filled with joy, adventures and excellent music, summer in Iceland is enhanced through a mixture of major and intimate celebrations. Not only that, Icelanders love to express themselves. In May, Iceland's capital hosts the Reykjavík Art Festival, celebrating music, visual arts, dance, literature and innovation.
One of the singular most important dates to remember during the summer is the 17th of June, Icelandic Independence Day. This day is cause for festivity throughout the whole of Iceland and brings many ancient traditions back to life. Locals flock to the streets to join a parade, dress up and reenact ancient myths, recite poems, eat candy and dance to the live music while tourists enjoy their planned adventures under the Midnight Sun.
The summer solstice is acclaimed through the music festival of the year at a later date. In June, the Secret Midnight Sun Festival has a lineup of talented artists ready to take to the stage and entertain the capital city throughout the night.
Other summer-spree events include the Viking Festival in Hafnarfjörður during the summer solstice, The Folk Festival in the northern city of Siglufjörður and Reykjavík Fringe Festival in July and the Icelandic Culture Night in August. Whilst August delivers the near end of the Icelandic Summer, an annual world-famous music festival, Þjóðhátíð í Eyjum is held in the Westman Islands. Reykjavik Pride also takes place during August and brings together thousands of people to encourage equality and of course, taste some of the best nightlife and parties that Iceland has to offer.
Drawing Icelanders from far and wide through their itineraries of entertainment, local cuisine, party atmosphere and plenty to do for the children, these events are a must-see whilst vacationing during the summer.
7. Iceland Weekend Trips and Beverages
---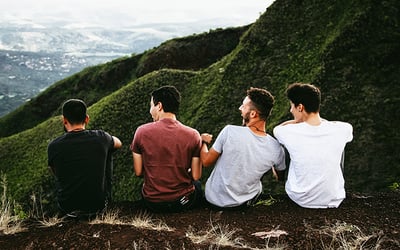 Enjoy the local atmosphere of the country
---
After an incredible morning, evening, and night at the festival you attend, you may choose to taste the local Icelandic drinks and relax with the locals. Many you may question, but if we take the advice from the locals, we're sure you will love it as much as they do!
Did you know that the Icelandic Reyka Vodka is handmade and produced from Iceland's lava fields? It has 40% alcohol and 60% energizing water from volcanoes. Fascinating isn't it?
Alternatively, you can experience a light-hearted formation that was created during the alcohol prohibition period. The adventurous Icelanders took the legal Pilsner beer and mixed it with Vodka to produce Bjórlíki. A drink they have kept going as a local tradition and of course, out of love.
7.0 A Booknordics.com Favourite
---
Not an alcohol fan? Do not worry, the Icelanders love a good alternative.
A simple creation of the high Icelandic dairy quality and it tastes delicious, a perfect partner as a nighttime treat after a party evening, the chocolate milk - Kokomjolk.
But hands down the nation's favourite is the Icelandic water. Pure goodness from the earth and an incredible natural source, we advise you to opt-out of buying bottled water and simply take an empty bottle to fill up from the local fountains, rivers and glacial lakes.
---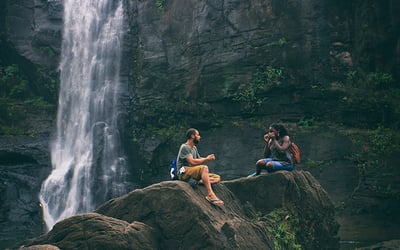 Pure natural water
---
Would you like to know more?
---
Our aim at Booknordics.com is to give you the best and most delightful insight into the local world of Iceland during the summer.
If you like what you see, sign up for our newsletter to stay up to date on all our fantastic, quality assured tours, helping create outstanding memories in the Nordics.
Stay updated
* By subscribing to the latest news from our blog, you consent to us storing your email address, and sending you monthly emails. You can, at any time, retract this consent.