Spanning the skies of the Nordics during the crisp winter months, the Northern Lights are a wonder that many travellers wish to capture through the lens of their camera.
If you are lucky enough to experience Aurora Borealis in the Nordics; we are pretty positive you'll wish to create the best Northern Lights photography to hang on your wall, post on your social media page or simply show your friends and family back home.
Here at Booknordics.com, we have created this informative blog, helping you to easily fulfil that desire.
After reading our Top Tip Photo Guide and our Introduction to the Northern Lights blog, you will be equipped with the knowledge and skills to create a masterpiece and become a Northern Lights photography expert.
Don't forget to tag us in your Northern Lights image, we would love to see it! #booknordics.com
Where to See the Northern Lights
---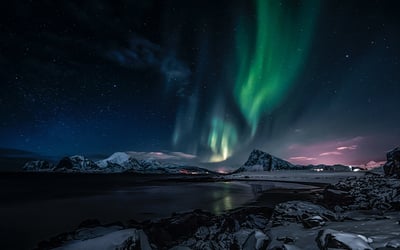 Northern Lights are visible in the Nordic countries
---
Did you know the Auroral Oval is a belt around the magnetic poles of the Earth?
Towards our North Pole and inside the Auroral Zone lies Norway, Sweden, Iceland, Finland, Greenland and the Faroe Islands. Each Nordic destination offers unique chances and marvellous Nordic adventures to capture the greatest Northern Lights photograph.
Depending on where in the Auroral Zone you are, you can see the Northern Lights upon the closing of Autumn in late August, distinctively throughout the solid winter months and as late as the bloom of spring in early April.
No matter what time you choose to seek the great lights, be sure to have the following photo tips in mind to help preserve the mystical wonder into a glorious piece of art.
The Nordic Night Sky



---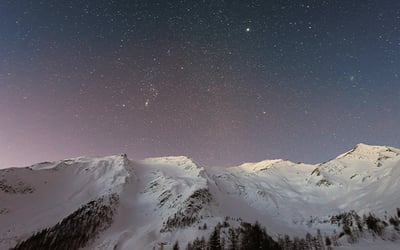 The breathtaking Nordic night sky
---
The night sky has a lot to offer, and every night is as unique as the last. Understanding the elements of night sky photography will help you capture events happening above, that you would not otherwise see from the naked eye.
In astrophotography (astronomy photos), it's crucial to understand the settings that your camera requires, differing from those used in the daytime, cameras will need to be adapted to capture the tiniest of details surrounded by the darkness.
Whether you are photographing nighttime auroras, star trails or the milky way, this will bring you the difference between a murky picture and a clear picture.
Other things to consider for night sky photography is the weather resistance capabilities, battery life and sturdiness of your device. While this will not determine the outcome of your picture, that is the settings applied, it will help with external factors that may present a problem.
We recommended bringing a tripod to any event, a simple knock of your camera when attempting astrophotography is detrimental to any photographer.
Tips to Capture the Perfect Photo like a Pro
---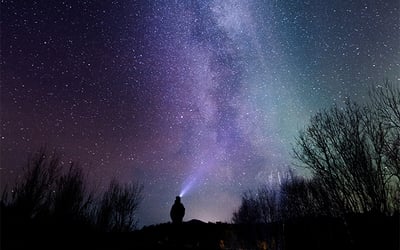 Learn how to take the best images like a pro!
---
With your camera at the ready, these extra 7 top tips will help you plan, execute and capture that inspiring and award-winning photograph like a professional.
1. Be Patient
---
Lady Aurora is an unpredictable force, in case you do not instantly set eyes on her, a little reassurance and a little patience can go a long way.
Pack your thermals, fill your backpack with treats, head to a remote part of the wilderness out of the city and set up your camera in the perfect spot.
Light a campfire, munch on grilled sausages, hold hands with your loved ones and listen to the great ancient myths and mysteries as you await her entrance, which can happen at any moment.
2. Travel Away From City Lights
---
For a more intense and radiant appearance of the Northern Lights, you may need to venture as far away from rural land as possible. Even a sprinkle of light pollution can play with auroral sightings, therefore, the city lights will need to be left behind.
Whether your ideal spot is at the top of a mountain, outside in the forestry wilderness, surrounding an open lake or onboard the Arctic Ocean; you'll need quietness and an unrestricted sky view for the best possible photo opportunities of the Northern Lights.
Travelling alone, as a couple or in a large group will not affect your chances, Booknordics.com has endless adventures to choose from for all travellers types.
3. Get to the Perfect Location Early
---
The Northern Lights are a one-of-a-kind natural wonder and no two shows are the same.
As discussed earlier, astrophotography is a skill that your camera creates but only with a little love from you - and this takes some time. You'll need to set your camera to the correct night sky photography settings and you are at a greater advantage to do this during the daytime when the long exposure settings are sharper.
---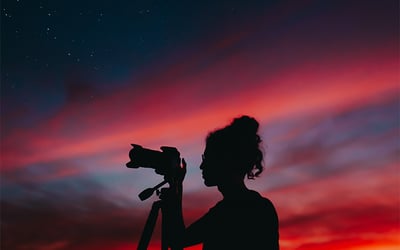 Be the one who captures the beauty first of Lady Aurora!
---
Picking the ideal spot to capture the road maps of the night sky is the key to success for an expertly taken night sky photograph. That, and setting your tripod for sturdiness and astrophotography victory.
Booknordics.com recommends that you find your perfect viewing place, use our informative guide to help you set up your camera and don't waste your time looking down. Instead, look up at the sky as Lady Aurora paints her celestial masterpiece and allow her to take your breath away.
Let your camera do the work. Trust us, you will not regret it.
4. Check the Northern Lights Forecast
---
The biggest obstacle to seeing the Northern Lights is the weather; typically the Green Lady is somewhat more prevalent during the darker, clearer nights.
Booknordics.com absolutely recommends that you check the local Aurora Borealis forecast in your chosen destination. As she has been studied for many years, avid Northern Lights hunters and devoted scientists use this forecast to show a degree of predictability in when, where and at what time she is likely to perform.
It is good to know that even if the moon or clouds attempt to dance with the Northern Lights, the moving show may be less vivid, yet equally remarkable. Be sure to have your camera ready - it may pick up distinct colours you cannot see with your naked eye.
5. Stay In or Above the Arctic Circle
---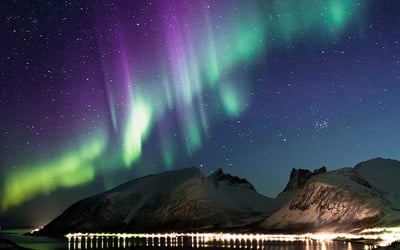 Majestic views, breathtaking landscapes, clear skies
- all and more!
---
We highly recommend you venture as far north as possible in the Nordic region to enjoy greater chances of seeing the Auroral display of swift colour changes.
Although deemed an extremely rare sighting and not the usual norm, it is not unheard of that sightings of the Northern Lights have been seen from as south as the Norwegian capital, Oslo.
Nevertheless, anywhere within or north of the Arctic Circle is a prime destination for uncovering the celestial veil of greens, pinks, purples and sometimes even blue swirls throughout the sky.
Start practising that perfect shot as not to miss the moment Aurora Borealis comes out to play.
What Camera is the Best to Capture the Northern Lights?
---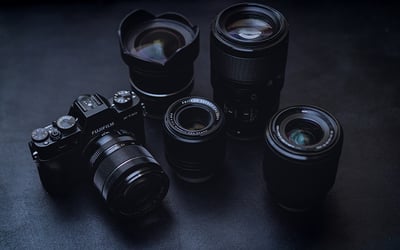 Here comes the truth!
---
The golden question. The golden answer.
We have come to realise, the best camera to capture the Northern Lights is a camera that has manual mode functionality.
A digital single-lens reflex camera (DSLR), preferably full-frame and a bonus with a wide-angle lens, is perfectly ideal for attaining an incredible photograph.
A DSLR camera is an advantage for shooting a night sky photograph; it offers manual mode; an optical viewfinder allowing you to capture great photos in low light; the battery life can last anywhere up to 3 days; and most, have added rubber housing and sealing on the body and around the buttons, making those parts more resistant to moisture.
Perfect for those Arctic weather conditions.
Basic Camera Settings
---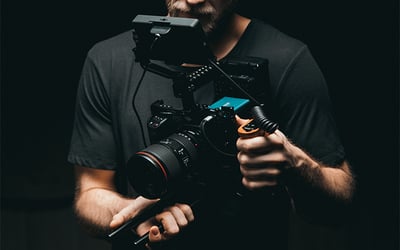 Optimal exposure camera settings to maximise your skills!
---
Wintertime especially can be very crucial for cameras, therefore major technical settings need to be applied. Follow these optimal exposure camera settings for taking spectacular pictures of the Northern Lights.
Turn on Manual Settings and Turn Off the Flash
1. Turn on Manual Settings and Turn Off the Flash
---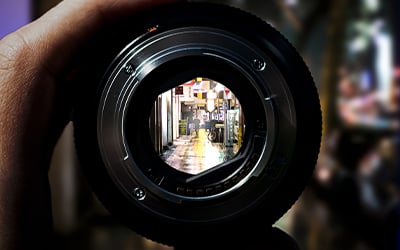 Turn off the flash
---
This is an essential part of capturing the best photographs of Lady Aurora.
It is important to be able to manually control your camera equipment and adjust the settings accordingly. Also, switch off the flash to avoid any unnecessary lighting in your photo.
As previously discussed, the Northern Lights appear differently during each revealing - be sure to be ready.
2. Bring a Tripod
---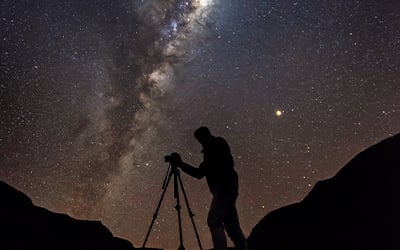 Let your tripod keep your camera steady
---
There is nothing worse than having all your photographic equipment raring to go and on the brink of seizing the most incredible photograph of the Northern Lights, you suddenly lose your balance at the last moment.
Do not let this happen, bring your trusty tripod with you for support.
---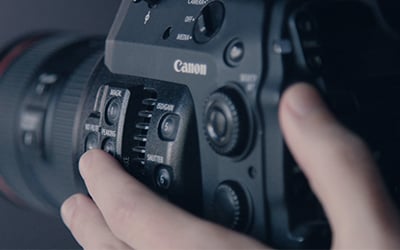 Adjusting your shutter speed will help capture a great photo
---
Depending on the tempo of the Northern Lights, you will need to adjust your camera's shutter speed. If the Northern Lights are frequently changing, adjust as she goes.
From our experience - soft lights will require between 15-30 seconds shutter speed and strong lights will require between 1-6 seconds shutter speed.
4. The Right Lens and the Right Aperture
---
A good wide-angle lens will allow you to cover as much of the auroral sky as possible. Ideally, you'll need a lens that can be set to a fast aperture (f-stop) between f2.8 and f4, depending on your camera.
5. Set the White Balance to 'daylight'
---
Set the white balance to 'daylight'. This ensures the light in the photos isn't too yellow or blue.
6. Pre-set your Focus by Adjusting your Zoom Settings
---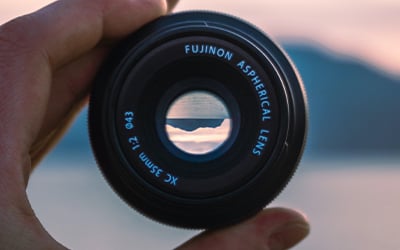 Pre-set your focus and zoom out as much as you can
---
Zoom out as much as you can - set to the infinity symbol if possible: ∞
Another tip is to pre-set your focus during daylight hours, this will enable you to focus clearly and find the right focal point easily. You can mark your lens at this spot so that later in the dark when you're hunting the Northern Lights, all you need to do is set the lens to the right position.
7. ISO
---
The ISO is 'fake light' and depends highly on how much extra light you need from where you are.
We recommended starting your ISO at 1,600. Play with this when you are alone with the lights. If your shutter speed is long (15-30 seconds), your ISO can be lower, therefore picture quality will be better.
8. Remember the Extras
---
While out in the wilderness, make sure you don't miss a moment.
Spark up a campfire, lay down on a blanket, munch on your snacks, pour delicious warming juice from your flask all while wrapped up in your thermals.
With your camera in place - you are now set for the evening.
Additionally, remember your spare batteries and your memory card too - just in case!
Smartphone Photography
---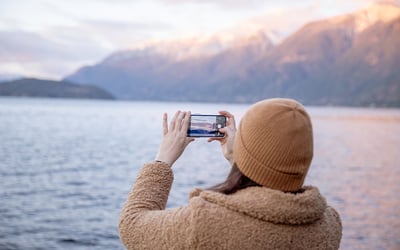 Charge the batteries full and head over to a Nordic tour!
---
Most of you are probably wondering whether you can take pictures with your smartphone? We are happy to inform you that yes, you can capture great pictures of the Northern Lights with an android or iOS phone.
You will need to adjust the shutter speed as well as enabling night mode in order to grasp a clean photo, and a tripod is also required for stability.
There has been a huge amount of auroras caught on smartphones and is definitely worth a try. Why not try your luck with both your camera and your phone?
The more opportunities the merrier!
Book a Nordic Adventure Tour
---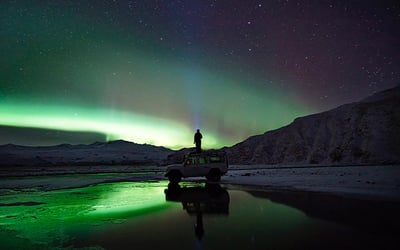 What are you waiting for?
---
The mathematical judgement shows, it is more likely to encounter the magical Northern Lights should you venture out into the unknown wilderness more than once. Therefore, we advise you to plan your Nordic trip for as long as possible.
Remember, the weather is as unpredictable as the lady herself. If you have an unfortunate night on your first and only night in the Nordics, you and your camera will soon discover, it was a risk not worth taking.
Join Booknordics.com Today
---
The locals have a slight advantage when it comes to creating the most outstanding photograph of Aurora Borealis - they have many years of experience and a lifetime of dancing with the Northern Lights incorporated into their family legacies.
On a Booknordics.com tour, not only will they mesmerize you with mythical tales and explanations once deemed true; they will have considered the greatest chances of when and where to spot the Green Lady.
Opting to book on a mystical adventure with an expert guide, will increase your chances of finding the perfect spot to set up your camera and dance under the electric lights of the sky.
We have produced our most top-quality tours in Norway, Finland and Iceland in the hope to help you choose the right adventure for you and your loved ones.
Experience something like no other while crisscrossing your newfound skills on seizing the greatest photo of all time.
Happy hunting!
Stay updated
* By subscribing to the latest news from our blog, you consent to us storing your email address, and sending you monthly emails. You can, at any time, retract this consent.