Summer in Norway brings vibrant green to the mountains, a dazzling sparkle to the Arctic sea waters, thrilling adventures to the fjords, refreshing swims to the open lakes, and scrumptious picnics to the parks.

As the lakes thaw, they welcome families to dive in and cool off, the mountains shed their snowy coats and transform into a paradise for hikers and cyclists, and boats are untied and venture into the romantic horizon.

Norway's breathtaking scenery and exhilarating adventures make it an irresistible destination for travelers. At Booknordics.com, we urge you to experience the magic of Norway during the summer. Pack your backpack and prepare your suitcase for a once-in-a-lifetime adventure!
Exceptional destinations in Norway
The Helgeland Coast South of Bodø
---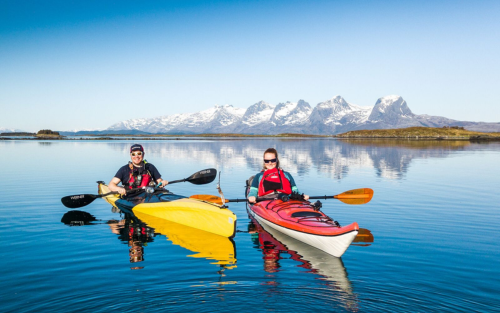 Kayaking in Helgeland ©️ Hans Petter Sørensen
---
The beautiful Helgeland Coast, south of Bodø, is known for its transition into the northern region of Norway and is a popular destination for locals in the summer.

This fantastic destination offers thousands of islands, islets, reefs, glistening white sandy beaches, crystal clear turquoise waters, lush valleys, and wondrous mountaintops.

This dream destination entices hikers, cyclists, and water fanatics to its shores. Why not experience Vega and Vega øyan and its 6,500 islands, a World Heritage Site on the northern beaches? Or, catch a glimpse of Svartisen, Norway's second-largest glacier, and cross the Arctic Circle?

One must take advantage of this unique place, with many places to relax and be one with nature.
---
Lofoten Islands
---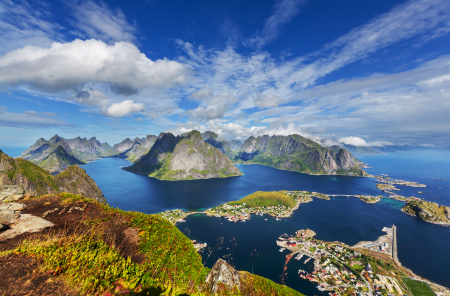 Lofoten Island, Norway
---
Lofoten, an enchanting archipelago in Norway, is a destination that captivates travelers with its awe-inspiring beauty. Nestled amidst majestic mountains and surrounded by the crystal-clear waters of the Norwegian Sea, Lofoten is a paradise for outdoor enthusiasts and nature lovers alike. Its dramatic landscapes boast towering peaks, secluded beaches, and picturesque fishing villages, such as Reine and Henningsvær, where vibrant red and yellow cabins dot the shoreline.
Visitors can embark on unforgettable adventures, from hiking along scenic trails and kayaking through fjords to witnessing the mesmerizing midnight sun. With its unique blend of natural wonders and cultural heritage, Lofoten offers an immersive and unforgettable experience for all who venture to its shores.
A Cultural Heritage – Oslo
---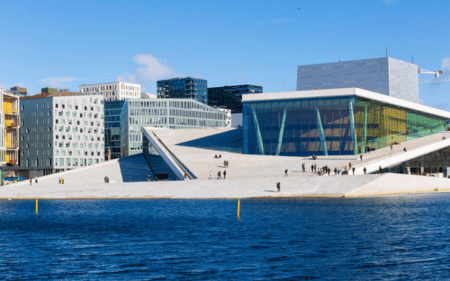 The Opera House from the harbor promenade- Oslo ©️ Didrick Stenersen
---
Oslo is a constantly developing urban capital on the coast of Norway, situated at the end of the beautiful Oslofjord, and is a city of art, history, and intimate nature.

Nature lovers have plenty to see and do, with open sculpture parks and botanical gardens sprinkled throughout the city. Meanwhile, history fans can choose from an excellent selection of fascinating museums for their sunny afternoons.

You can quickly reach the sea or the mountains from almost anywhere in the city to relax. With temperatures averaging a gentle high of 19°C to 22°C and a calming low of 10°C to 13°C, helmets are strapped, and beach towels are packed for a glorious afternoon biking in the forests or a dip in the fjord to tickle your senses.

You have it all: countless bars, cafes, and nightlife, happily bustling with locals on a city break getaway, and overnight options offering comfortable accommodation!
Tromsø
---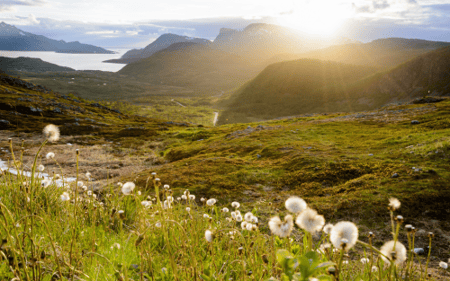 Appreciate Tromsø's pristine nature
---
Tromsø, one of Norway's major coastal cities, is considered by many to be the Nordic adventure capital of the north.
With temperatures reaching a high of around 9°C and a low of 3°C and joined by the Midnight Sun, there's no reason not to discover unspoiled Arctic nature just minutes away from the urban city's cultural history during the summer.
Visit the botanical gardens, relax in one of the many cozy coffee bars and cafés, taste incredible local dishes, choose a museum to explore, lounge on nearby beaches, meet the seals at Polaria, or check out the glass design at Blåst. Alternatively, head onto the ocean and discover beautiful island paradises such as Sommarøy, Senja, Karlsøy, and other small fishing villages.

From its vibrant city life to its access to Northern Norway's majestic fjords and fells, Tromsø and its surrounding area will provide you with a front-row seat to extraordinary events.
Bergen
---

The Dock in Bergen- ©️Foap-Visit Norway
---
Bergen, the second-largest city in Norway and once the trading capital between Norway and the rest of Europe, is a charming town on the west coast that offers the perfect getaway to the fjords of Norway. It is also a UNESCO World Heritage City and a European City of Culture, making it a top choice for summer exploration.
Entertainment is a strong point in this characteristic city. Theatres, exhibitions, festivals, and family-friendly events - you name it! If there's a cause for celebration, it happens here in Bergen.
Local activities are plentiful as well. Fjord cruises, rafting, segway rides, zip lining, treetop courses, horse riding, and fishing are available during the summer and add to the fantastic holiday experience.
Enclosed by a glorious set of mountains (seven, to be exact), the city is towered over by magnificent hiking and cycling paths, while kayaking provides an alternative view. Taking the Fløibanen funicular or the Ulriken cable car to the top gives you incredible panoramic views with a romantic setting.
Nordic Passion and Value
---
If you would like to receive more news about the Nordics, sign up for our newsletter for our hand-picked quality adventures and local tips for each destination.
Happy Norway travels!
Stay updated
* By subscribing to the latest news from our blog, you consent to us storing your email address, and sending you monthly emails. You can, at any time, retract this consent.