An eco-friendly destination, an abundance of natural elements, a selection of contrasting and diverse sceneries, and an astonishing amount of things to do in Iceland makes this island a world-class destination for a vacation in the autumn.
With one of the most sparsely populated nations in Europe, the amount of uninhabited land boasts geological wonders and natural beauty unseen to travelers. It is one of the many reasons we recommend an Icelandic vacation.
Bold colors, milder temperatures, and a fair amount of daylight hours contribute to fascinating vistas. Operational activities and outdoor adventures are among the top things in Iceland during this time.
Booknordics.com has created an interesting read on the best ways to discover Iceland in the autumn.
Welcome the autumn weather
---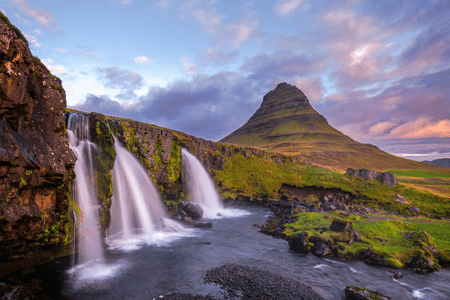 Enjoy the autumn breeze with your loved ones.
---
Autumn in Iceland means glorious colors and decorative landscapes. A cool breeze fills the air, and the weather accommodates a variety of outdoor activities for the whole family.
From the end of August through to October, the autumn weather can drastically change, and you could find that you experience all four seasons in one day without notice. Temperatures average between 5ºC and 10ºC in September and 2ºC to 7ºC in October, leaving room for a bit of surprise along the way.
It's these weather conditions that we recommend you prepare for. Pack waterproof and windproof clothes; they will be as good as gold in autumn. Comfortable walking shoes, inner and outer layers, and knitted headwear will come in handy too.
Visit Icelandic elements in autumn.
---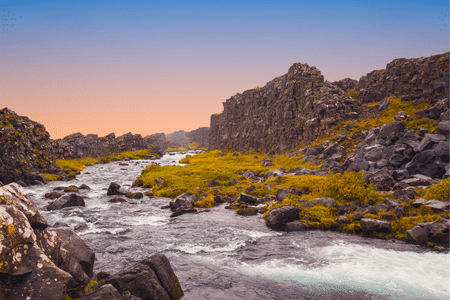 Discover Thingvellir National Park, one of the longest-standing parliaments in the world
---
The landscape in Iceland is quite spectacular and portrays a unique spell-binding surrounding that you are unlikely to see anywhere else in the world.
Covered head to toe in volcanic lava fields, towering mountains, gigantic shimmering glaciers, and thundering waterfalls, the contrasting colors of autumn entwine and create art in a colorful masterpiece. Imagine soft greens mixed with deep oranges, reds, and yellows that overlap a deep blue waterfall cascading into the glacier or that overshadow meandering rivers that run past wild mushrooms or berry-picking bushes.
Imagine being surrounded by vast landscapes dotted with bubbling hot springs and steaming vents as you dip in a natural geothermal spring out in the Icelandic wilderness. It really cannot get much better than that.
The best part about Iceland is its distinctive elements, including its beautiful wildlife. Arctic Foxes are spotted in the autumn and the last sightings of some of their birdlife, including the Arctic Puffins before they migrate to warmer climates for the winter.
Did you know there are between 30 to 40 active volcanoes in Iceland today? And over 100 inactive volcanoes that have not erupted in the past thousand years. Read our All you need to know about Iceland blog to learn more about our fascinating Nordic destination.
Drive to accessible autumn landmarks
---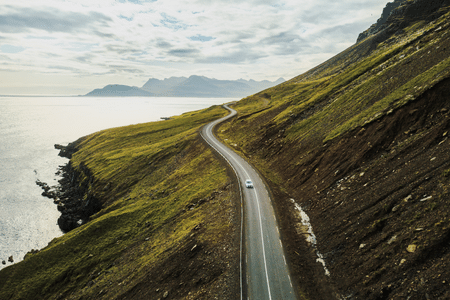 Self-drive or book a guided tour around Iceland
---
As you may already know, many of Iceland's most eccentric landmarks can also be labeled hidden gems due to their geographical location.
You are in luck traveling during the autumntime as many of the f-roads that lead the way to these historical wonders are open throughout August and September. Once the first snowfall arrives in October, these roads will likely be closed to self-drivers and only accessible through 4x4 guided tours.
We highly recommend visiting the following:
The Golden Circle route near Reykjavik, including Thingvellir National Park, the Great Geysir, and Gulfoss Waterfall.

J

ökulsárlón Glacier Lagoon

in the south, a magnificent slice of the biggest glacier in Europe, Vatnajökull.

Lake Myvatn Geothermal area in the north is a geological wonderland sculpted by thousands of years of volcanic eruptions, earthquakes, and other natural phenomena.

Thórsmörk, a mountain ridge in Iceland named after the Norse god Thor.

Hornstrandir offers breathtaking ocean views from untouched land and wildlife like no other.

Snæfellsness peninsula, promoting Iceland's distinctive elements in miniature form and a loop of fantastic photo opportunities.
Did you know that West Iceland is one of the island's most geologically diverse regions, with one of the world's most significant concentrations of geysers? This includes the famous Snæfellsjökull glacier.
Iceland's advantage is that there is natural uniqueness on every corner and destination. Travelers can provide a bucket list of wonders to accomplish during their autumn vacation and leave Iceland with even more added along the way.
Savor Icelandic cuisine
---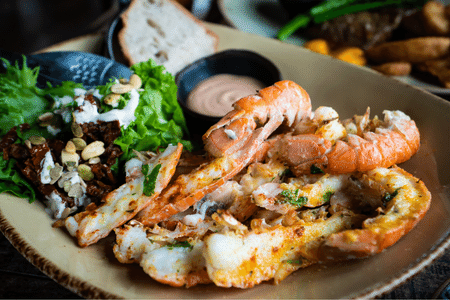 Sample the delicious taste of Iceland's lamb
---
Make no mistake, Icelandic cuisine is top for being some of the healthiest food.
With the most transparent water and the freshest air, fields dotted with freely grazing sheep and cows, and rivers full of wild fish, there is a considerable amount of excellent ingredients for top chefs to prepare quality food you haven't tasted before.
Autumn is the season of produce in Iceland, and you'll find that fresh Icelandic potatoes, carrots, kale, broccoli, and more are most likely on the menu. It's also the time for freshly prepared lamb meat from the sheep grazed on the rich and nourishing vegetation in the mountains of Iceland.
Here are our top 5 Icelandic foods to try:
Skyr - Icelandic yogurt is usually eaten with fruit, berries, and possibly milk.

Slow-roasted lamb - Iceland has one of the world's purest breeds of sheep; lamb is often served gourmet and on many special occasions such as Christmas and New Year.

Hákarl (Fermented Shark) - a traditional dish dating back many years. Did you know that it is hung outside to dry for four to five months before being prepared?

Icelandic Fish (fresh or dried) - One of the healthiest dishes you can try while on vacation. Freshly caught and freshly prepared on location, or taste the latter option and snack on dried fish smothered in butter.

Rúgbrauð - a traditional rye bread is dating back centuries. This sweet-tasting bread is baked in a pot or steamed in exceptional wooden casks buried in the ground near one of Iceland's natural hot springs.
Verði þér að góðu - Enjoy your meal!
Join a spectacular outdoor activity
---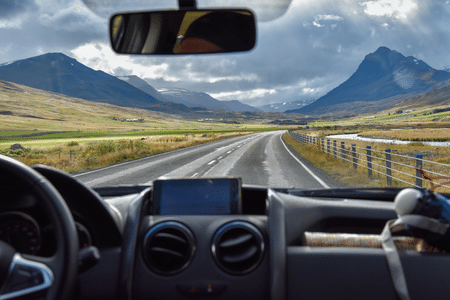 Drive the scenic route on your Iceland vacation
---
Icelanders love their outdoor adventures, and who wouldn't when you have various geological features and landscapes to explore?
There are countless things to do in Iceland during your vacation, and here at Booknordics.com, we have outlined a small fraction of our favorites.
If you love speed, ride a thrilling ATV across volcano black sand beaches. If you're a wildlife enthusiast, explore the northern waters of Húsavík on a whale-watching safari. If you like to reach heights, take a walk on the wild side of Vatnajökull glacier, Europe's largest icecap. Or cruise in Jökulsárlón glacial lake.
---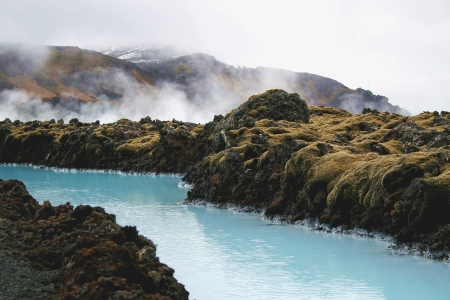 Relax in the geothermal waters of the Blue Lagoon
---
Swim in the Blue Lagoon Iceland geothermal waters if you crave luxury and relaxation. If you prefer a traditional way of transport, hop on horseback and experience the famous Icelandic 'tölt' in the mountainous landscapes. Stay overnight in a glass dome waiting for Lady Aurora to make her magical appearance if you wish to witness natural scientific phenomena.
Although the Northern Lights are more prominent in the winter, they have known to be sighted during autumn, fluttering silently across the starry sky. Keep your eyes open!
Endless choice
---
We hope our informative blog has given you insights into some of Iceland's inner beauty and encouraged you to visit.
At Booknordics.com, we aim to deliver the best possible experiences and services, ensuring your adventure is one to remember. Sign up for our email newsletter to receive all the latest news and updates regarding our hand-picked adventurous itineraries and newly updated tours, all awaiting your arrival.
Please contact our dedicated customer service team if you require further assistance.
Stay updated
* By subscribing to the latest news from our blog, you consent to us storing your email address, and sending you monthly emails. You can, at any time, retract this consent.