As the old saying goes - "do what you love and love what you do". Fortunately, this is one of those quotes that doesn't need that much interpretation since it literally means what it says. For example, "sled dogs LOVE what they do".
Dog sledding has a rich history in Scandinavia, which is why it's seen as more than just a fun experience during a Nordic adventure. As far as experiences go, there are few that can compare to a heartwarming Arctic husky adventure.
Together with their dedicated Mushers, the powerful dog sledding huskies make an exemplary team. At Booknordics.com, we are in love with the idea that we can introduce you to some fun facts about dog sledding that you can witness first-hand on a magical Nordic adventure.
The Art of Mushing
---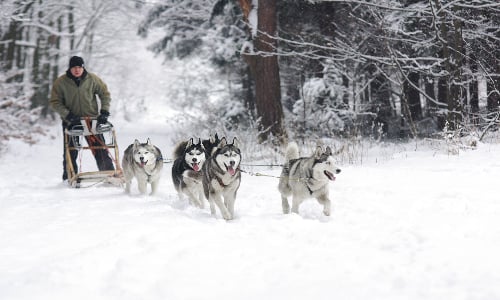 Mushers love their dogs as much as their dogs love them
---
Mushing for most of the Nordic destinations is a way of life and a huge part of everyday living. It is a slice of the history, culture and heritage and still to this day, towns and villages depend on the reliability of the transport.
A musher is a person who drives a dog sled team. In smaller terms, they are also known as the driver. Sounds simple right? We wish it were just that.
The unique and loyal relationship between the husky and the dog musher is inspiring and calls for a deep understanding between the two to accomplish the task at hand. It's teamwork, unity and cooperation; a true relationship of trust, loyalty and understanding.
A Nordic Experience All Year Round
---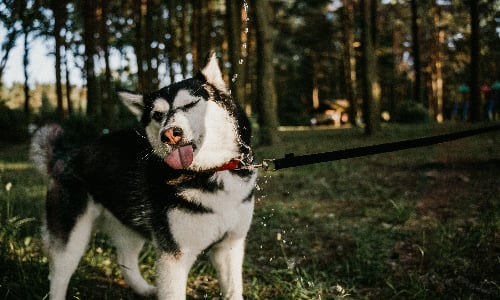 These beautiful huskies are highly respected in the Nordics
---
A wonderful attribute to dog sledding is that you can experience it all year round. That's right! Even in the warmer temperatures, the loveable sled dogs are eagerly waiting to show off their fantastic scenic homes and their playful, energetic personalities.
Scandinavia is dotted with unforgettable destinations to enjoy a surreal Arctic adventure, come rain or shine.
Whether you embark through snowy hilltops, over frozen lakes and underneath frosted tundra or on wheels across once frozen rivers, over freshly grown greenery and past cascading waterfalls.
Iceland, Norway, Finland, Greenland and Sweden are all fortunate to experience the chance to go dog sledding in all the wonderful earthly seasons. Spring, Summer, Autumn and Winter - which one would you choose?
True Facts of Sled Dogs That You May Not Have Known
---
Huskies are lovable dogs, beautiful to look at and amazing to watch. We are delighted to share, there is a lot more to these fantastic animals that meet the eye.
1. Unique Sled Dog Breeds
---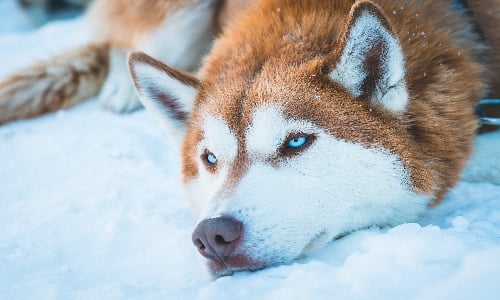 All Husky breeds are strong and powerful
---
The most common dog breeds for dog sledding are Siberian Huskies, Greenlandic Dog, Alaskan Malamutes and Alaskan Huskies. These breeds are highly intelligent and easy to train.
These are ideal traits since sled dogs need to easily be able to follow verbal commands, especially during long-distance treks that are occasionally through slightly confusing environments.
2. Tireless Nature of Huskies
---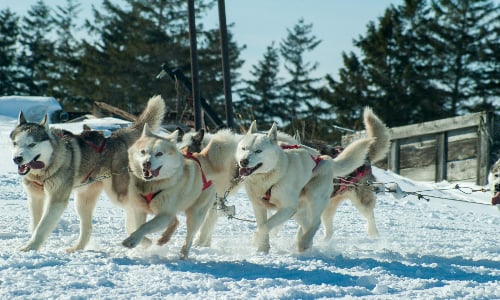 They just love to run!
---
Not only are the sled dogs incredibly social and friendly; they have near limitless energy. You will definitely witness this during a wonderful husky tour in the Nordics.
At their peak, they can reach speeds of up to 32 km/hr and can cover up to 130 km/day. We find that incredibly fascinating and most definitely worth seeing.
3. Snow Dogs are Built for the Cold
---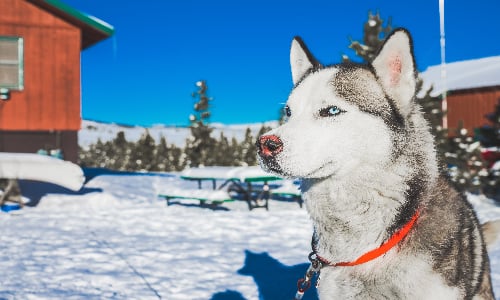 Their thick fur can keep them warm in Arctic freezing temperatures
---
In addition to their physical traits, sled dogs have a thick 'double-coat of fur for extra warmth and insulation.
As well as thick pads on their paws for protection while running and a fluffy tail that covers their nose while they sleep outside, these fast and furry four-legged friends are a wonder to the Arctic conditions.
These are definitely the kind of dogs you want around, especially when experiencing the Northern Lights in the wintery wonderland of the Arctic.
4. An Instinct for Pulling
---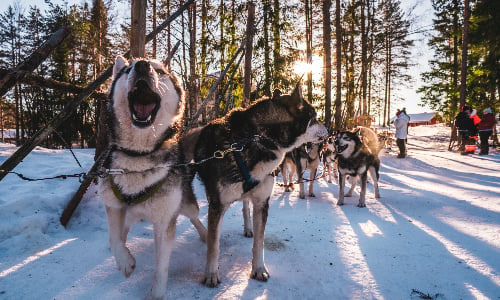 You'll feel the intense pull of the Huskies on your Nordic adventure
---
What makes these dogs perfect for dog sledding is their non-stop energy and their natural instinct to pull and run.
On top of that, these breeds flourish in environments where they get daily exercise and plenty of space to run.
We are certain that the Scandinavian countries and their vast landscapes are the perfect environments for these adorable animals.
5. Husky Sled Dogs are Pampered Well
---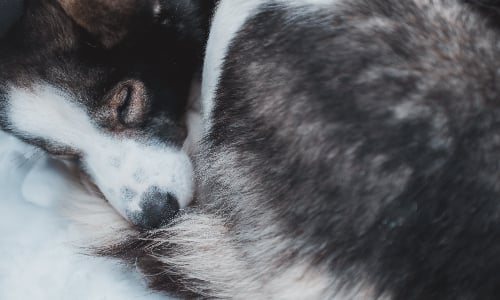 Resting Husky after a long afternoon of running
---
Even though sled dogs are conditioned for the harshest winters, they are and rightly so, treated like royalty.
Since sled dogs are at their peak when they're healthy, owners and breeders invest heavily into their well-being and ensure they are well taken care of.
To distribute the efforts evenly, sled teams are often a blend of younger dogs (for more power) and older dogs (for more experience) evening the load perfectly.
You'll find intriguing dog sled teams just like that on your incredible excursion to the Husky Farm in the Nordics.
6. Husky Training Starts Early
---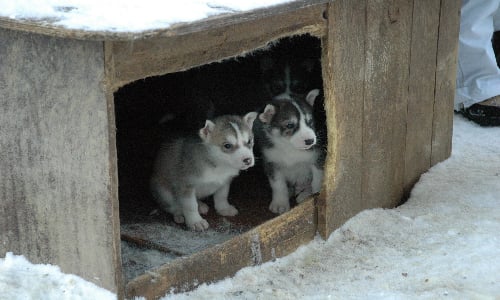 Born strong to train strong
---
It is relevant that Sled dogs are trained from an early age to learn the skills required but also to enhance the relationship with their dog musher.
From a young age, they cuddle and socialize with their handlers and with each other. This develops their group dynamics, cooperation and retention. By as little as 6 months old, the puppies are placed with a more experienced dog in a dog sled team to learn from its elder.
It is without question that while the dog develops through training under the guidance of the musher, it is inevitable that the musher also learns a thing or two about themselves.
7. Sled Dogs can Respond to Voice Commands
---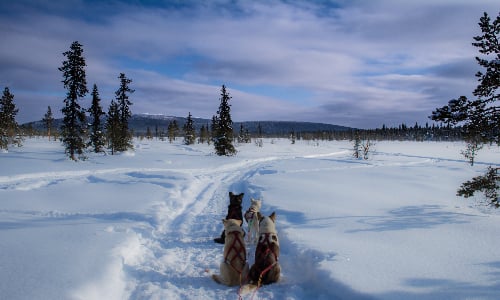 Waiting patiently for their mushers' commands
---
Among the many qualities that sled dogs have, one of their gifts is their ability to understand voice commands. This is especially useful during a long trek across the snow into the beautiful Arctic wilderness.
Some of these commands are Gee (turn right), Haw (turn left), Line out (the lead dog must pull the team out straight from the sled), Trail (warning oncoming mushers to get out the way) and Whoa (stop).
We find it incredible that some are the same as the commands used for sledding as far back as the Mid 18th century.
How do you think you'll perform as a musher for the day?
Dog Sledding in the Nordics
---
Several places in the Nordics offer amazing dog sledding adventures. Here are even more fun facts that we think you should know about and why we think you should venture out to these particular destinations.
Norway
---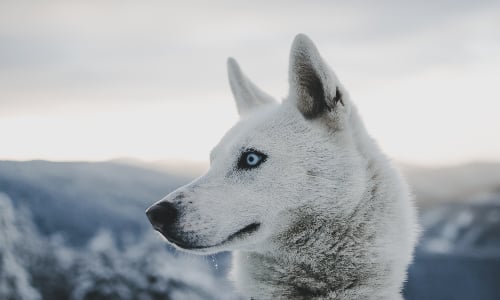 The Arctic cold in the Nordics is no match for the sled dogs
---
Each year Norway plays host to two world-famous races: Femundløpet, the world's biggest dog sledding race and Finnmarksløpet, the longest dog sledding race in Europe.
The professional mushers and their dogs work as a dynamic team, travelling at high speeds through the towns and picturesque wilderness of Norway.
Norway grants exceptional adventures throughout the frosted winter; in and out of hillsides and across tear dropped fjords. Additionally, it allows an alternative experience out in the wilderness and on wheels during the summer glow.
Can you think of a better way to witness the importance of dog sledding?
Iceland
---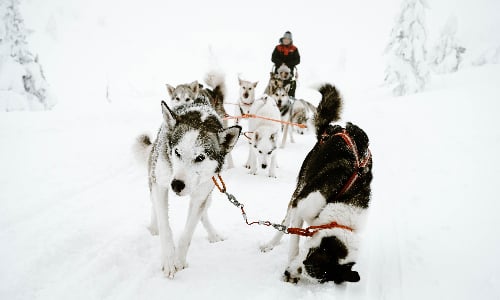 Arctic wilderness running in Iceland
---
Did you know that some of the Greenlandic dogs had appeared in The Secret Life of Walter Mitty movie in Iceland? It's no secret that they love the attention and the camera!
Off the set, depending on the dynamics, the terrain, the number of sled dogs and/or the musher's strategy, dogs can be picked for specific roles.
Normally, there would be the lead dog who sets the pace and direction for the sled team, two swing dogs who help navigate turns, the team dogs who provide most of the power for driving the sled and the wheel dogs who are usually the strongest, therefore the closest to the musher. What an incredible Icelandic team of huskies that sounds to be.
Iceland, wild and rough, offers driving through deep snowy terrains in the winter sprinkled with the occasional ice cave and luscious green hillsides roaring with waterfalls in the summertime.
Even the huskies cannot wait to show you these amazing contrasting elements.
Finland
---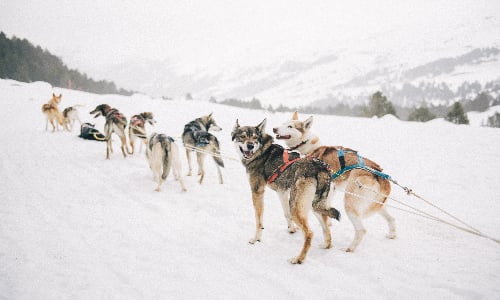 Follow the leader of the pack
---
Did you know that for a dog sled team to work well, they need to learn how to work as a pack? This is particularly important since dog sledding depends on all the sled dogs following the lead dog.
A key part of a sled dog's training is exposure to, and integration into their pack.
Dog sledding takes place during all seasons in Finland. However, if you want to witness the magic of change, allow the loveable huskies to pull you through the springtime when the leaves are turning green, the last of snowfall can be seen melting and the warmth of the summer sun glistens off the trees.
Maybe they can take you to visit Santa's Village too?
Sweden
---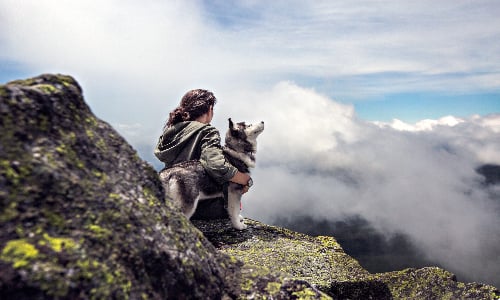 Friends for life
---
Another fun fact is that sled dogs also make great guide dogs. It's not unfamiliar to discover that a retired sled dog will be using their skills and incredible attributes to lending a helping paw to a human.
Fancy getting wet from the melting ice in Sweden? During a summertime dog sledding tour, the active animals will spritz you across the once frozen lakes and glittering greenery that follows. Of course, contrastingly offering the same in the wintertime.
Sweden also hosts some of the most incredible dog sledding adventures under the glow of the Northern Lights.
Greenland
---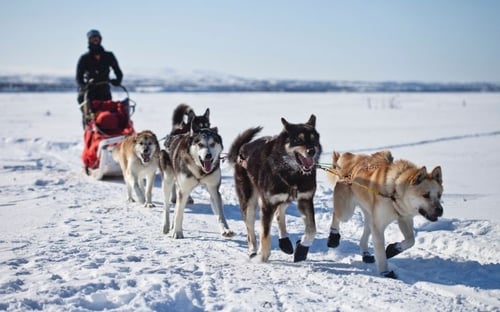 Ready for a huge meal after an energetic ride
---
We all know that some dogs can eat a lot, sled dogs, however, are on a whole other level.
Of course, this is because of how intense dog sledding can be. Most sled dogs can eat up to 10,000 calories per day, while other breeds of the same size would normally need about 1,700 calories.
All those extra calories come in handy, especially when running through Greenland's Arctic regions.
Embedded in the culture, history and heritage, dog sledding in Greenland is more than an adventure, it is a way of life. The locals and their loyal dogs adapt to the icy winters and enjoy the slow transition into the more floral summers.
This is definitely an unmissable experience if you want to live like an Arctic local.
Top Selection of Husky Holidays
---
We hope you have enjoyed our fun facts about dog sledding and the enjoyment that can be had on a dog sledding adventure.
If you wish to receive up-to-date notifications of the best tours of the Nordic countries, subscribe to the Booknordics.com email and benefit from our hand-chosen activities, designed to delight.
Happy Husky Tour!
Stay updated
* By subscribing to the latest news from our blog, you consent to us storing your email address, and sending you monthly emails. You can, at any time, retract this consent.