Norway is the land for adventure enthusiasts. Known for its stunning mountains, glaciers, and deep fjords along its coastline, this Scandinavian country is one of the best destinations for everyone who wants to take their adventures to the next level.
As most tourists know, the country blooms its best in the summer, but it also offers a unique escapade in the fall and winter seasons. To make your planning more manageable in the fall and winter seasons, we have come up with fun and exciting adventures you can do with your friends and family.
---
---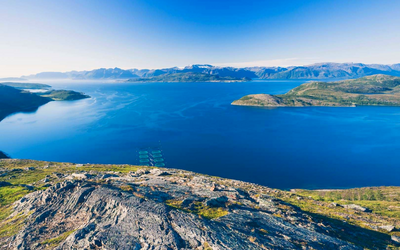 A glimpse of Alta Fjord
---
You may easily travel from Alta to other parts of Finnmark, the North Cape, and Hammerfest.
Alta, the largest town in the county of Finnmark in northern Norway, is home to around 15,000 people. Located deep inside Alta fjord, its surroundings are as breathtaking as the fjord itself, with towering mountains, an expansive coastline, and thick forests.
People often begin their journeys to the North Cape from this city. Spend time exploring the beautiful landscape and rich history of the Alta fjord. This package includes a knowledgeable captain/guide, a boat trip, a set of wetsuits, a life jacket, some snacks, and a beverage. Suitable for individuals, couples, small groups, and families.
---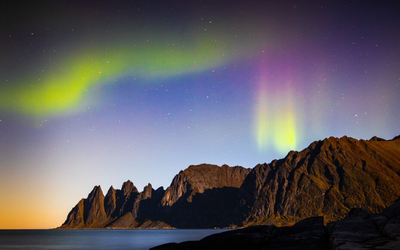 Magnificent Lofoten Eruptive Province
---
The magnificent Lofoten Islands are dotted around the Norwegian sea, well above the Arctic Circle, and provide some of the most desirable viewing places to see the Northern Lights. Its pointy mountains, impressive beaches, and untouched lands offer a variety of exciting adventures.
Did you know the most-wanted mountain peak and one of the main characteristics of the Lofoten Islands is Svolværgeita? With its two horn towers over Svolvær, it is a popular choice for many avid hikers each year attempting to make the 1.5m jump between them.
Lofoten's legacy tells of fishermen that come to the island to participate in the celebrated "lofotfiske" - the cod winter fishing in Northern Norway. Over 1000 travelers arrive yearly to stand at the bay and welcome the fishermen home.
Imagine capturing all this and more on the most splendid and informative Northern Lights photography tour. Visit Gimsøy island in the north of the archipelago and genuinely learn the ins and outs of the Northern Lights amidst the brightened sky. Drive down the Atlantic coast and the Vestfjord side with a backdrop of sheltered bays, clear lagoons, and the rising peaks of the Lofoten archipelago as you learn how to capture professional photographs of the moving wonder.
Read our Northern Lights Photography Guide to get ahead—our favorite for delivering imprinted memories in your mind and your hand.
---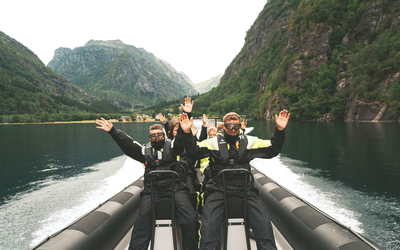 A thrilling RIB Safari Tour in Hardangefjord
---
Explore the beautiful Hardanger fjord onboard a rigid inflatable boat (RIB) to Fysksesund, Herand, and Kvamsy and take in the stunning fjord sceneries.
The RIB trip begins with a crossing of the Hardangerfjord to the little island of Herandsholmen, a landmark of a former trading port. Fyksesund, a narrow fjord arm surrounded by mountainous terrain, will be navigated to reach the remote village of Botnen. You will disembark at Botnen to experience one of Hardangerfjord's most genuine cultural settings.
Immerse in the culture and history of the area as you feel that adrenaline rush on a RIB boat.
---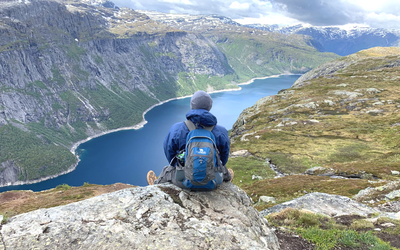 Gorgeous Aurora Borealis lights up the sky in Sweden.
---
In a nutshell, Trolltunga is an epitome of a 'rock star.' Therefore, hiking up to this spectacular rock formation should be part of your bucket list! Explore Norway's unspoiled wilderness and other breathtakingly beautiful surrounding areas. In this tour, you can expect a far superior hiking experience thanks to the guides' wealth of local knowledge, high levels of skill, and enthusiasm.
Also, do not forget to check out the Trolltunga Winter Hiking Tour. If your hiking experience is at the advanced level, we can confidently tell that what you are about to experience is not your typical hiking excursion. Discover Trolltunga in the icy, snowy winter with the aid of experienced local guides. The local experts are fully aware of the difficulties of this year's unpredictable winter weather. So, you are guaranteed a safe hike in this weather.
Put on your snowshoes, and let your adventure begin!
---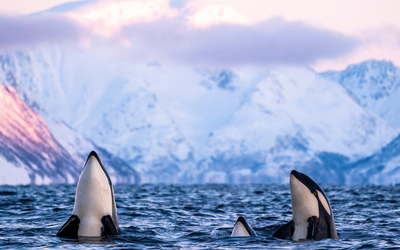 Killer Whales in Northern Norway
---
Norway is home to various exciting outdoor pursuits, but whale-watching is one of the most fascinating. Tourists from all over the world have flocked to Norway to catch sight of the majestic whales that call the country's waters home.

Many residents of Northern Norway are knowledgeable about these remarkable mammals because of the thriving whale-watching industry in the region. True to that, on the island of Andøya in the Vesterålen archipelago sits a modern architectural masterpiece known simply as "The Whale," which will house a museum and viewing platform for whales. It will open to the public in June 2023.
Nevertheless, if you plan to go on whale safari cruises, it is essential to note that the whale-watching season starts from late October to around mid-January. So, if you travel around this time of the year, you increase your chances of seeing whales!
Happy Whale Watching!
---
At Booknordics.com, we have placed together the most epic adventures to experience in Scandinavia, giving you a more in-depth choice of the best possible ways to enjoy your holidays.
If you wish to discover more information about our incredible destinations, sign up for our email newsletter.
We have an endless list of adventures for you here at Booknordics.com. What are you waiting for?
Stay updated
* By subscribing to the latest news from our blog, you consent to us storing your email address, and sending you monthly emails. You can, at any time, retract this consent.