You don't have to be an expert on what to see in Iceland during the summer, nor do you need to scroll the net for hours looking for inspiration. That's our job, and we've covered the best adventures for an Iceland summer trip right here!
Did you know that Iceland's capital Reykjavik, is the northernmost city of any sovereign state in the world? This vibrant city is the host of many adventures and it doesn't get drastically cold during the summer as some may assume.
Despite the unpredictable temperatures, Iceland offers thousands of Nordic nature adventures. So, pack like an Icelander for your trip, prepare for both sunny days and breezy days, Iceland's summer months offer them all.
The Land of Fire and Ice
---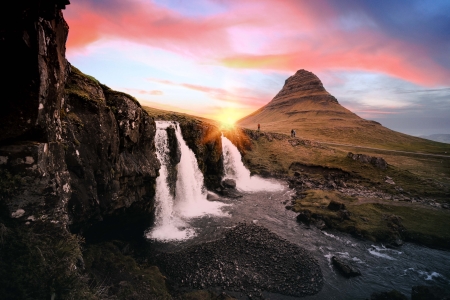 Explore landmarks under the summer sun
---
The warm Icelandic summer takes the form of the Midnight Sun and the Summer Solstice. They celebrate with longer days, warmer weather and an enormous number of activities. Travellers embark on a breath-taking Nordic Adventure to witness the pure Icelandic wilderness under the golden glow.
Teamed with continually shaping glaciers, erupting hots springs, geothermal lagoons, roaring waterfalls, vast lava fields, voluminous volcanoes, monstrous mountains, black sand beaches, small fishing villages, bustling cities, an abundance of wildlife, and all combined with fascinating folklore stories - your summer vacation in Iceland will leave you with a variety of unique, contrasting, everlasting memories.
---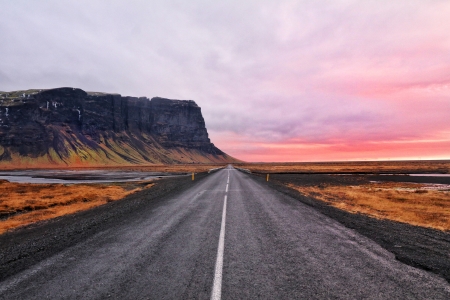 Venture to unknown and hidden destinations
---
The exciting elements that give Iceland its name 'The Land of Fire and Ice' are remotely accessible during the summer either by land, sea or air, and our chosen itinerary choices are perfect for those who wish to witness Icelandic nature, history, and culture in the most incredible ways possible. Which will you choose?
1. Hiking in Iceland across Landmannalaugar Highlands
---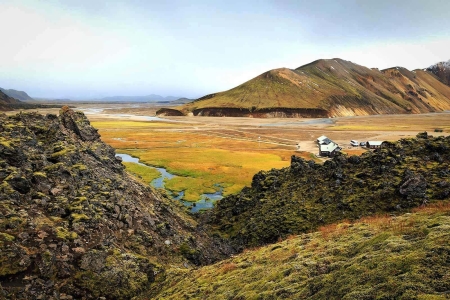 Capture the vibrant natural colours of the Highlands
---
One of our favourites is the Landmannalaugar Hiking and Bathing Tour. This fantastic day includes venturing through the attractive countryside and farmlands of Southern Iceland into Þjórsárdalur valley where you can explore the picturesque Hjálparfoss waterfall and its surroundings before heading on to Landmannalaugar.
Landmannalaugar is often referred to as 'The Pearl of the Central Highlands'. It's the most colourful of all the highland areas. Located in Fjallabak National Reserve on the southwest of Iceland's highlands, it displays multi-coloured Rhyolite mountainsides that overlap rugged lava fields and encompass inland rivers.
Why not enjoy a relaxing bath in a soothing, natural geothermal spring? Or, take a short hike into the multi-coloured caramel hills surrounding Landmannalaugar? Both ideal for capturing that special photograph.
Covering over 40,000 square kilometres and stretching through the centre of Iceland, the highlands are an important imprint on the land, forever changing and offering incredible views.
---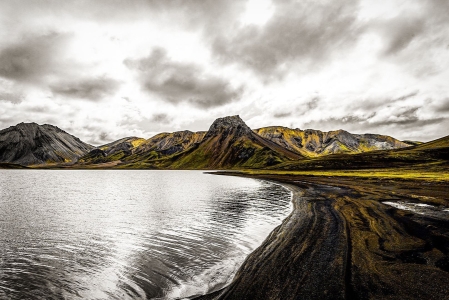 Witness spectacular views whilst hiking and enjoying the Highlands
---
Do you have more time to travel to the highlands? Intrigued to spend 2-nights in comfortable accomodation along the way? Then embark on a 3-day Private Highlands Tour and explore the above and more.
Devour breathtaking scenery by visiting Kirkjubæjarklaustur, the triple volcano Eldgjá, the splendid waterfall Ófærufoss, the famous row of craters Lakagigar, and the famous canyon that origins from the Ice Age, Fjadrargljufur.
Remotely accessible by specifically modified vehicles and only during the summer months of June and July, these gems are on every summer vacationer's bucket list.
2. Whizz with an ATV around Volcanic Lands
---

Go on an adventurous and fun-loving experience with your friends!
---
With over 130 volcanoes known in Iceland, it is a wonder how so much as a whisper doesn't stir trouble. Many beautiful volcanic crater lakes can be found in Iceland and these are formed as a result of volcanic explosions that leave a surreal cluster of colours embedded behind.
Did you know that green moss seen on Icelandic volcanoes requires a specific temperature, the right amount of water and summer sunlight to glow in its green glory? If conditions are not met, it will wait for a more favourable time. Interesting right?
How would you like to skid across the lava and drive into the middle of Volcano Eldfell, in Vestmannaeyjar? Our fabulous Volcano ATV Tour allows you to whizz around on a powerful ATV under the Midnight Summer Sun. You will view the scene where Guðlaugur Friðþórsson came to land after swimming 5-6 km in the freezing temperatures of the dark, cold sea after Hellisey VE 503 sank.
---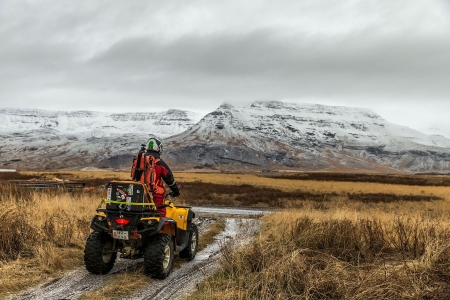 Get ready to drive past otherwordly scenery
---
Or, for those of you who are true adrenaline junkies, maybe you fancy the opportunity to drive along the Volcanic Springs?
Choose to venture to the famous Mosfellsbær Valley at the foot of Esja Mountain to witness incredible views of the Hengill volcanic area. Along the way, learn all about how volcanoes are formed, their predicted eruptions, and the ancient myths behind the gigantic rocks.
3. Explore and Capture

Jökulsárlón Glacier Lagoon
---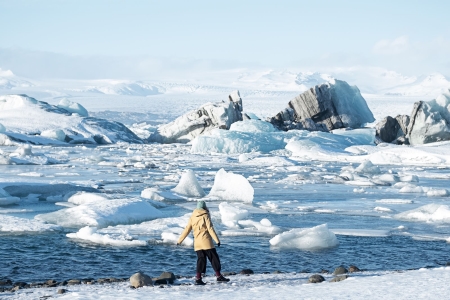 Enjoy a legendary trip to the Jökulsárlón Glacier Lagoon
---
Experiencing a glacier lagoon in Iceland in a must-see during the summer. Stand in awe, transfixed at the rearranging natural ice sculptures and breathe in the true Icelandic nature.
On the way to the ever-changing Jökulsárlón Glacier Lagoon, fed from one of the offsprings of the largest ice caps in Iceland - Vatnajökull, you will bypass Vík Village, Reynisdrangar seastacks and Seljalandsfoss waterfall, falling from Eyjafjallajökull glacier-capped volcano. All playing a significant part in most South Coast Tours of Iceland.
Upon arrival at Jökulsárlón Glacier Lagoon, you will board a boat and together with a captain and his crew, you will be met by magnificant icebergs in mixed shades of white and blue, silently travelling towards the sea.
The lagoon's dramatic scenery is popular with travellers and photographers wishing to witness Icelandic nature first-hand. Here is your chance to do the same.
4. See the Arctic Wildlife in its Natural Habitat
---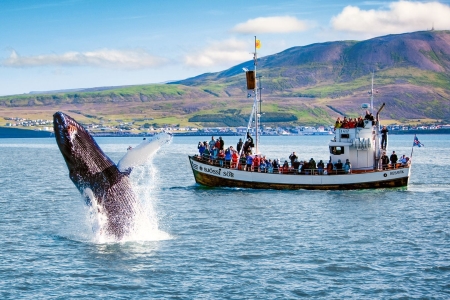 A breaching whale in the Arctic Ocean
---
The warmth of the Midnight Summer Sun stimulates vibrant life and a feast of food to its Icelandic waters. Following closely behind, arrives the maritime wildlife of the Arctic Ocean.
Iceland is known for its excellent maritime variety and the Whale Watching tours in Iceland are a great way to explore the underworld that encompasses the island. Skjálfandi bay in Húsavík is the most extraordinary and significant place. Known as the number one spot in Europe, a broad variety of maritime and birdlife can be spotted offshore.
If you look closely, you can see minke whales in large numbers dotted across the ocean top, white-beaked dolphins, harbour porpoises, and the astonishingly enormous humpback whales.
Does this tickle your fancy? Join expert professionals and highly qualified crew who will guide you comfortably on a smooth sailing in a traditional Icelandic oak boat to explore the home of the ocean's glorious wildlife.
---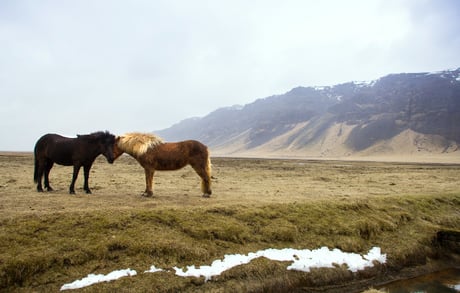 Ride the famous Icelandic horse through the scenic countryside
---
Did you know that the Elves are important creatures in Iceland? They get to decide where roads can go and houses can be built. We ask because on this tour, you're about to venture into their homeland.
Onboard the famous Icelandic horse, you will bypass the small cleft Alfakví and the unmovable old sheep's house along untouched Icelandic land. Experience the gait tölt on numerous excellent tölt paths and become one with the most famous means of transport in Iceland.
In the afternoon, indulge in Icelandic soup and bread before heading out to Puffin Island to witness the charasmatic birds in their natural way out on the open ocean. A pure nature tour guaranteed to enhance your summer in Iceland.
5. Take a Scenic Helicopter Ride over Reykjavík
---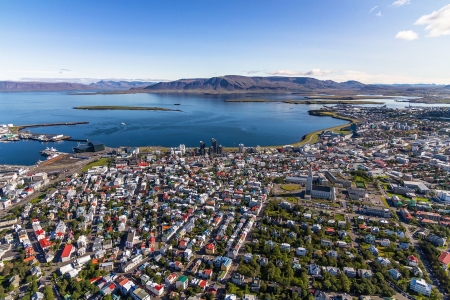 Enjoy an adventurous helicopter ride above the capital city and scenic landmarks
---
Take our advice - if you're going to do it, do it properly! Combine an off road adventure with a scenic flight. What better way to explore the nature of Iceland?
Whizz through mountains and unspoiled countrysides on an ATV before embarking on a scenic sky journey. Enjoy a thrilling exploration over the Icelandic wilderness and overlook the vibrant capital, Reykjavík.
This is the perfect opportunity to enjoy unique views only accessible from the sky and the freedom to explore the landscape from birds-eye-view. Comfort, admiration and thrill all in one great package.
Plan Your Summer Vacation
---
We hope that our ideas for your summer vacation in Iceland have helped you choose the right adventure for you and your loved ones!
Why not sign up for our email newsletter to receive all the latest news and updates regarding our hand-picked adventurous itineraries and newly updated tours, all awaiting your arrival this summer.
Stay updated
* By subscribing to the latest news from our blog, you consent to us storing your email address, and sending you monthly emails. You can, at any time, retract this consent.