Imagine setting foot on Icelandic black sand beaches, where the crashing waves harmonize with the mystical allure of volcanic formations. Dive into the crystal-clear waters of Norway's fjords, feeling exhilarated as you navigate through their narrow passages. Or find yourself lost in the magic of Iceland's ethereal landscapes, where geothermal wonders and geysers paint the horizon with vibrant hues.
Beyond the natural wonders, elevate your Nordic holidays in Norway and Iceland with our ultimate summer bucket list of adventures, and prepare for an unforgettable journey!
When in Norway
Trolltunga Hike & Overnight Stay in Sunset/Sunrise Dome
---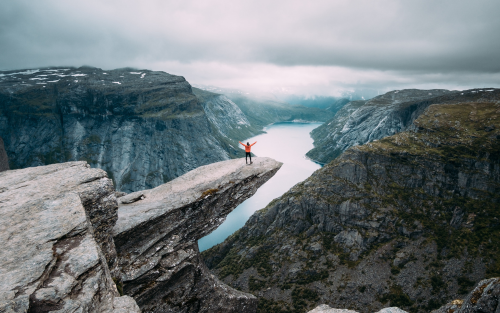 Trolltunga Hike ©️ Benjamin Davies - Unsplash
---
Make your Trolltunga hike memorable by staying in a cozy dome under the stars. Every visit to this spectacular locale unfolds a new story and a new adventure, making it the perfect summer experience to revisit. So, how about planning a sojourn to the majestic Trolltunga?
---
Self-Guided Norway Day Trip - Bergen to Oslo
---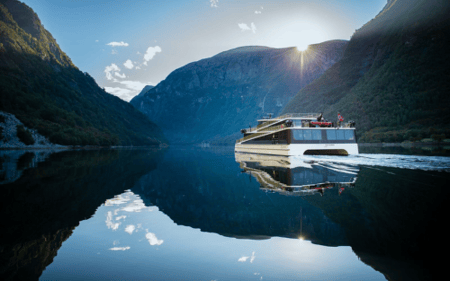 ©️ Easy Travel Norway & the Baltics
---
Whether solo or with friends, the Self-Guided Day Trip from Bergen to Oslo offers the perfect escape to revisit Norway's iconic landmarks, like the narrow Nærøyfjord, at your own pace. Relish the tranquility of nature and kindle your adventurous spirit as timeless wonders await you.
---
Self-Guided Excursion to the Fjords, Bergen to Bergen
---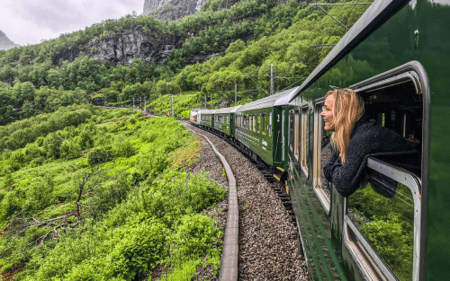 ©️ Easy Travel Norway & the Baltics
---
Imagine the mesmerizing allure of the fjords in Bergen, with cascading waterfalls, lush forests, and majestic mountains. It's a chance to reconnect with nature and escape the city life's hustle and bustle.
This extraordinary tour encompasses a trip on the Bergen Railway, offering breathtaking views as you travel between Myrdal and Bergen. You'll also embark on a scenic bus journey through stunning landscapes, followed by a memorable fjord cruise on Aurlandsfjord and Nærøyfjord aboard a classic boat. And that's not all! The journey continues with a ride on the iconic Flåm railway. It's an irresistible invitation to discover the heart-stirring beauty of Norway.
---
Private RIB Fjord Safari, Rallarvegen Biking, and Flåm Railway Tour
---

©️Guided Fjord Tours
---
Are you craving a thrilling escapade with a personal touch? This tour whisks you to Norway's awe-inspiring fjords and towering mountains. Navigate the landscapes by boat, bike, and train under the expert guidance of a local connoisseur. Experience the adrenaline surge while luxuriating in the allure of privately guided exploration. It's the ultimate blend of excitement and personalized Norwegian charm!
When in Iceland
---
6-Day Icleand Summer Minibus Tour
---

©️ Bus Travel Iceland
---
Prepare for an action-packed adventure in Iceland that will leave you in awe of its dramatic diversity! Er. Brace yourself for a journey showcasing breathtaking glaciers, mesmerizing waterfalls, and captivating black sand beaches.
Plunge yourself in the beauty of Iceland with a 6-day guided tour encompassing the most thrilling and picturesque locations. Throughout your adventure, you'll enjoy comfortable five-night accommodation in a selection of country hotels, complete with delicious breakfast to fuel your exploration.
---
Reykjavik Golden Circle Weekend Package
---

©️ Bus Travel Iceland
---
For a more relaxing weekend getaway, travel to Reykjavik from Thursday to Sunday or Friday to Sunday and treat yourself to Iceland's famed Golden Circle. This enticing package includes the thrill of witnessing geysers erupt, waterfalls cascade, and exploring volcanic craters, among other natural marvels. Stay in a welcoming 3-star hotel where each morning begins with a delightful breakfast. Your accommodation, breakfast, and the unforgettable Golden Circle adventure are all bundled into this package, ensuring a stress-free Icelandic getaway.
---
Geothermal Helicopter Tour
---

©️ Nordurflug Helicopter Tours
---
Embark on an unforgettable 50-60 minute guided helicopter tour from Reykjavik Domestic Airport. Marvel at Reykjavik's panorama, colorful mountain ranges with adjacent hot springs, and traverse lava fields and craters. Enjoy an exclusive peek into a hole from the comfort of your seat! Make a helicopter tour a cherry on top of your time in Iceland.
---
Reykjavik Golden Circle and Whale Watching Holiday Package
---

©️ Whale Watching - Unsplash
---
Opt for a 4, 5, or 6-night Iceland holiday, as you like. The package includes 3-star accommodation, breakfast, and both adventures for a seamless Icelandic experience. Embark on a full-day Golden Circle tour and indulge in luxury whale watching.
---
Whether you choose Norway or Iceland, one thing is for sure: you're in for an adventure of a lifetime. So, what are you waiting for? Prepare to push your limits, step out of your comfort zone, and unlock a sense of freedom you never knew existed.
From exhilarating hikes along jagged peaks to heart-pounding encounters with majestic wildlife, your Nordic summer adventure promises to be an experience of a lifetime. Start planning your summer getaway now!
Nordic Passion and Value
---
If you want more news about the Nordics, sign up for our newsletter for our hand-picked quality adventures and local tips for each destination.
Happy Norway travels!
Stay updated
* By subscribing to the latest news from our blog, you consent to us storing your email address, and sending you monthly emails. You can, at any time, retract this consent.